November 06, 2012 -
Matt Bowen
Eagles' open field tackling: a lack of technique
Click here for the entire Inside the Playbook series.
The Eagles had a rough time tackling Monday night vs. the run game in their 28-13 loss to the Saints down in New Orleans. But why did we see the Philly defenders come up empty in the open field? It all starts with technique and angles to the ball.
Let's use Chris Ivory's 22-yard TD as an example and break down some coaching points.
Run scheme: Counter ("Crunch")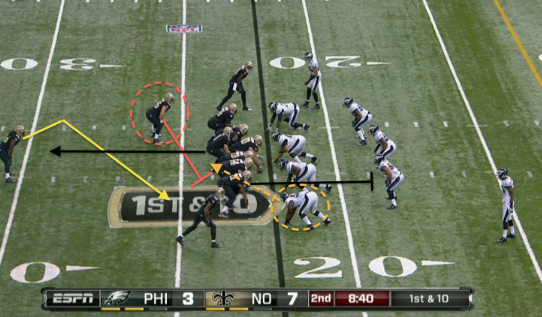 - Both WRs aligned inside of the numbers? That's a run alert when you are playing the Saints. If the SS is walked down in the box, look for a crack block from the Z receiver with the CB having to "crack replace" and set the edge.
- The "crunch" block comes from the FB (or TE) aligned to the open (weak) side of the formation. Off the counter action from Ivory, the F/TE will "crunch" (or trap) the DE.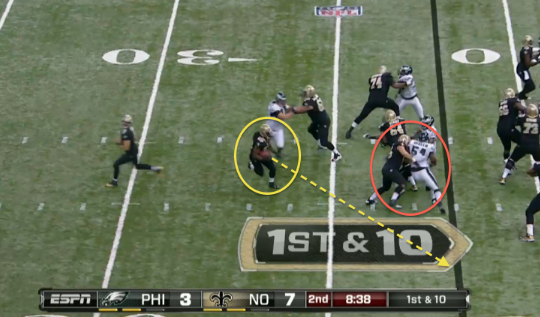 - Real quick on the run fit before we move to the secondary to discuss tackling technique. Look at the closed (strong) side DE. He crashes down the line of scrimmage and uses a "spill" technique (attack blocker with inside shoulder). However, whenever you use the "spill" (SS in Cover 1 vs. pulling guard for example), there has to be a second level defender scraping over the top. We don't see that from the Eagles--and this run is going to get up the field.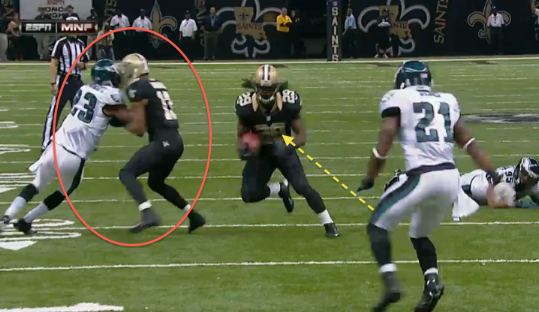 - Eagles' SS David Sims has to play the "alley" here (between CB and the core of the formation). CB Dominique Rodgers-Cromartie can attack this stalk block from the WR more aggressively, but he has set the edge and forced the ball to the inside. However, look at where Sims breaks down. He's too deep. As a safety, close the gap (or cushion) and attack downhill. If you sit back (or settle your feet) the ball carrier can create angles (plus set up the cut-back). Take that away and elimate the distance between ball and man.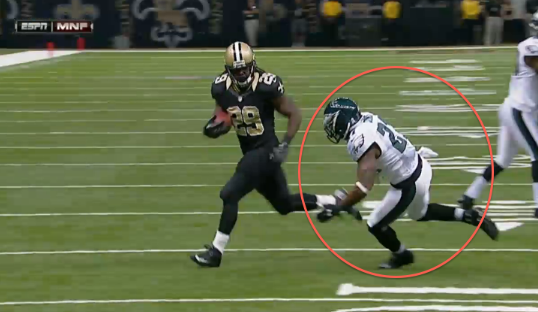 - Sims now has to scramble and take a poor angle to the point of attack. That's not going to work vs. NFL backs that have speed once they get vertical up the field. Remember, in both the run and the pass game, your angle should be downhill at 45-degrees. Take a flat angle and you will get stuck trailing the play.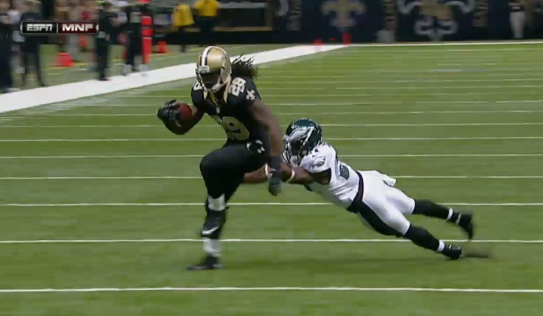 - Basic tackling technique: get the head across, wrap the arms, roll the hips and take the ball carrier to the ground. But all Sims can do here is leave his feet and shoot the arms because of his poor technique. I've been there as a safety. And it's no fun to come up empty vs. a run that goes for six points.
Follow me on Twitter: @MattBowen41