September 21, 2011 -
Matt Bowen
Eagles won't play Vick after a concussion, right?
After watching the Giants play on Monday night, I think Michael Vick would put up some numbers against the New York defense this Sunday in Philly. Blitz-coverage vs. Vick? That could lead to some expolsive plays for the Eagles offense.
But there is no way he should be on that field this week after suffering a concussion in the loss to Atlanta.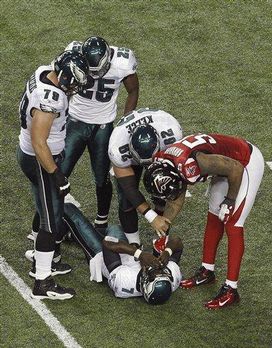 The smart (and only) move this week is to shut Vick down after suffering a concussion in the loss to the Falcons.
I don't care if it is a divisional game or that there is a possibility the Eagles could fall to 1-2 without him in the lineup.
Sit him. That's the only play here.
Forget about those baseline concussion tests (which are suspect to begin with), meeting with team doctors, trainers, coaches, etc. as the Eagles go through their game prep for the Giants this week.
The only place Vick should be on Sunday is in team issued sweats on the sideline with a bag of sunflower seeds. Or, even better, at home on the couch, watching the game on TV.
We aren't talking about a knee, an ankle or even the rib (and lung) injury that Cowboys' QB Tony Romo played through in the win over the 49ers on Sunday. You can treat those injuries, use stim and ice, tape, extra padding, etc.
Not with a head injury.
Think about it this way: the Eagles gave Vick a contract that (on the surface) is worth $100-million dollars. A lot of coin to get risky with. He is the franchise player in Philadelphia—now and for the future.
You protect that. Even if it costs you a win in the standings.
For years, NFL players have been careless, almost naive to a fault, about concussions. They played through them, showed they were tough and went back onto the field without knowing the short and long-term impact it could cause on their careers and lives.
Pure stupidity—for a damn football game.
Even if Vick says he can play, Andy Reid needs to shut him down for a week, maybe two, until he is actually ready to take the field again. No different than what we saw last season from the Green Bay Packers after Aaron Rodgers went down with a concussion vs. Detroit.
They didn't let him play the next week vs. the Patriots and turned the ball over to Matt Flynn. Hey, that's why you pay the backup.
I wouldn't expect Eagles fans to agree with me, because they want their guy out there playing with the Giants coming to town. He is a vital part to a team that should contend for a Super Bowl after the money they spent to add top-tier talent.
But I'm not going to listen to that—because sitting him is still the right call.
Reid will slow play this throughout the week with the media. We will hear all about the tests that Vick is going through to get back to the field and the "plan" in place to ensure he is healthy and ready. Might as well to force the Giants to practice for Vick instead of Mike Kafka.
But don't put Vick (or this franchise) at risk by allowing him to play one week after suffering a concussion.
That's bad football.
Follow me on Twitter: MattBowen41