December 01, 2011 -
Matt Bowen
Eagles-Seahawks: what to watch for tonight
Looking ahead to tonight's Eagles-Seahawks matchup out in Seattle, here are three things to keep an eye on—starting with WR DeSean Jackson.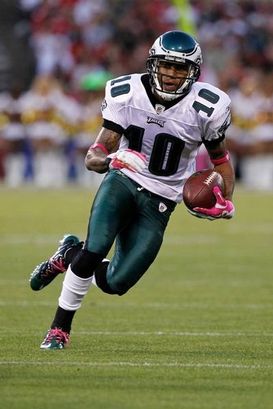 ICONWill DeSean Jackson show up to play tonight in Seattle?
1. DeSean Jackson's production: The Eagles' WR was benched in last week's loss to the Patriots in Philly, but is expected to get the start tonight vs. Pete Carroll's club. The question I have is simple: will he show up in the box score? There are deep ball opportunities with Vince Young at QB in Andy Reid's system. Multiple breaking routes that get Jackson in one-on-one matchups down the field. And don't forget about the Hi-Lo concepts in the west coast system. Inside breaking routes that work away from a defender's leverage. Bottom line here is that Jackson will have opportunities tonight to make plays for his QB and start playing like a top tier talent at the WR position. Let's see if he shows up on a national stage.
2. Seahawks' offensive game plan: Over the last four games, Seahawks' QB Tarvaris Jackson has throw six INTs compared with only three touchdowns. However, working vs. an Eagles' secondary tonight that could be without Nnamdi Asomugha (game-time decision), I wouldn't be surprised to see Seattle challenge this unit down the field. Even without WR Sidney Rice (put on IR this week), if Seattle can establish the run game with Marshawn Lynch vs. the Eagles' front seven, Jackson will have opportunities to make some plays in the passing game.
3. Eagles' fundamentals: Sounds almost too simple to talk fundamentals with a pro team, but watching the Eagles this season, this is a major issue. Tackling (especially in the open field), footwork in the secondary, assignment mistakes, etc. This Philly squad plays an undisciplined brand of football when we talk technique and assignment responsibility. It is never easy from a player's perspective to fly out to Seattle from the east coast and get a win. Add in the short week (that leads to a lack of prep time), and we are looking at matchup that will come down to technique over Xs and Os. Read your keys, trust your eyes and play fast. That would be my message to this team before kickoff.
Follow me on Twitter: @MattBowen41