May 16, 2012 -
Matt Bowen
Earning a roster spot won't be easy for Bengals Burfict
From my perspective, the Bengals had one of the top draft classes last month. Dre Kirkpatrick, Kevin Zeitler, Devon Still, Brandon Thompson, Mohamed Sanu, etc. Plenty of talent (and upgrades) for Marvin Lewis to work with this season.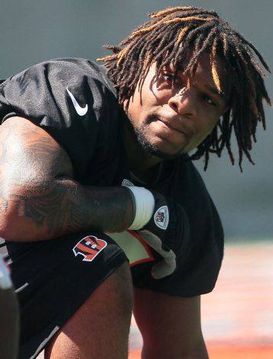 Burfict needs to make the most of the limited opportunities he will see as an undrafted rookie.
But what about undrafted LB Vontaze Burfict? There is a lot of discussion about the ASU product. Much more than I ever expected to see for an undrafted player. His draft stock plummeted after a poor 2011 season paired with below average workouts in Indy and at his pro day. That's enough to drop you off team's draft boards when you aren't in prime shape to showcase your skill set in front of pro scouts.
Cincy scooped him up after the draft and now I'm curious to see if he can stick with the Bengals and make an opening day roster in the NFL.
Here's what Lewis said about that on NFL Network's Total Access (via Pro Football Talk): "I don't know what down side there is. I think he's a young man who has fallen from graces everywhere. Through the draft process, obviously at Arizona State, he didn't play very well as a senior player. But when you watch some of the things he did on tape, he has the hips, the snap, he has the ability to play under and through blocks, and that's what you're looking for in a linebacker. We're providing the opportunity for Vontaze. He'll continue to get better. He's changing his body physically from the body that played in the '11 season at Arizona State. He's a much lighter player now again, and I'm pleased with what he did last week in our rookie camp. I want to see him continue to get better and it'll be fun next week when we get the full team out here in OTAs."
That sounds good in mid May. But for Burfict, his opportunities will most likely be limited. That's how it works with any undrafted player. They won't see the amount of reps of the draft picks and they have to realize the minimal investment the club has made in them. No big bonus checks here for Burfict.
That's why everyday is an interview for the LB in Cincinnati.
Burfict needs to make plays (consistently), show his value as a coverage man on special teams and give Lewis and the Bengals staff a reason to keep him around. And it all starts with reps. Those are gold for any undrafted player in camp and under the lights of the preseason schedule. The time of the year when rookies earn a roster spot.
Maybe Burfict can make the squad in Cincy. I don't know that yet. No one does. But if the LB wants to see an NFL paycheck, he needs to show up when the opportunity is there.
Follow me on Twitter: @MattBowen41