July 20, 2011 -
Matt Bowen
Eliminating two-a-days: good or bad for the NFL?
Training camp is the NFL is a miserable experience—but it is also a necessity to playing winning football in the regular season. And that is why I have mixed opinions on the possibility of eliminating two-a-day practices as part of the new CBA that we expect to be finished up soon.
Cut down the offseason and OTA's? I have no issue with that, as veteran players shouldn't be reporting at the end of March to team facilities. Get two and a half solid months of technique work done and you will be ready for camp.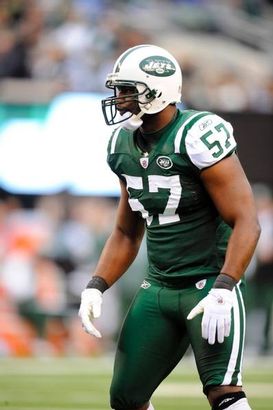 ICONJets LB Bart Scott has spoken out against the idea of eliminating two-a-day sessions in NFL training camps.
But cutting out two-a-days? I can't say I am completely on board with that—yet.
I understand the idea of "player safety" and keeping bodies fresh for the grind of a 16-game schedule in the NFL. You must hit (repeatedly) in camp to condition your body and to compete for jobs.
It is the exact reason no one has ever won a staring role during OTA's and mini-camp. You play football and improve in full gear.
What the players are talking about now is having one practice in pads and then essentially a walk though of some sort in the second session. That's where I start to question if it is the right move.
Not to the level of the Jets' Bart Scott, calling the idea "wimping out," but there is something to be said about surviving camp. Because it is part of the job.
Playing for four different teams (and five different head coaches) during my career, I saw plenty of different NFL camps. With Joe Gibbs in his first season back in '04, it was a physical camp. Consistent hitting to the point where the vets had to speak up.
I remember my own mother asking me after the third preseason game if they were feeding me during camp. Why? Because I looked like a high school quarterback—down about ten pounds.
The flip side (minus Steve Spurrier's passing camp in Washington) was Dick Jauron's camp in Buffalo. At the most, we were in pads once a day and didn't even put on full gear until the third day of camp. Player's loved it and it felt more relaxed.
However, we still got work done in during the second session wearing shells (helmets and shoulder pads) and focusing on special teams, etc. And you can still practice at full speed in shells.
The point here is finding the right balance during camp. That should be on the coaching staff to figure out what puts their players in the best position to compete, hit, condition and rest in the same week of August.
Now? It becomes part of the lockout negotiations. Some players will love the idea and others (like Scott) will tell you that eliminating two-a-days is bad for the game.
My final take is simple. I am not a fan of "old school" camps where players beat each other into the ground. Instead, I believe the camp we had with Jauron in Buffalo is the best fit. Hit in full gear and still form up in shells in the second session of the day. That gives players a rest from full contact drills but allows coaching staffs to grade out the film.
But it still should be in the hands of the coaching staffs. And as a player you find a way to make it through August—no matter how brutal it can get.
Follow me on Twitter: MattBowen41