August 29, 2011 -
Matt Bowen
End of the line for Vernon Gholston?
Talking to Bears personnel down at training camp earlier this month, I asked around about Vernon Gholston. The responses were lukewarm at best. But the one constant I kept hearing throughout the day was obvious: if Gholston was going to produce (and stick in the NFL) this was the ideal scheme for him in Chicago.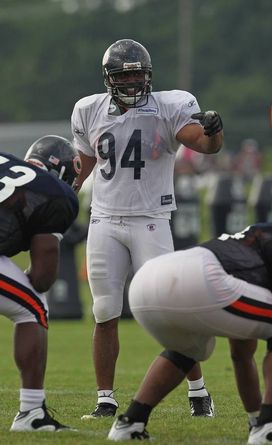 Are there any more opportunities left for Gholston after being cut by the Bears?
And we all know how that turned out when the Bears cut the former Jets first-round pick to trim their roster down to 80-players today.
Saw it myself just watching one-on-one pass rush at practice. Didn't see explosion off the line or a player that was schooled on using his hands at the point of attack. No question he was an athlete (and a NFL combine talent), but knowing football, I didn't see a player that was going to stick in Chicago.
There was something, well, missing. And now we should really wonder if Gholston is done—for good.
Think about for a minute. Gholston has now washed out under Rex Ryan and Lovie Smith. Two defensive head coaches that have strong reputations in this league for teaching and getting the most out of their talent.
We are also talking about two different schemes. The 3-4 pressure front in New York and the zone based 4-3 defense in Chicago that must get pressure from their front four.
Two solid opportunities to stick on a roster from my perspective, and two opportunities that most players don't get in this league. He was given that standard "second chance" by the Bears all based on his draft position.
But after his release, can you see anyone taking another flier on Gholston? Not in my opinion, and I don't think many people would disagree right now.
Follow me on Twitter: MattBowen41