October 08, 2010 -
Matt Bowen
Even with injuries, no need to panic in Green Bay
Once the calendar turns to October in the NFL, we start to see injuries pile up. Happens every year. After six weeks of camp and one full month of the season, players start to go down. The good teams—the teams that are built for the playoffs—find a way to manage injuries and their overall roster.
Green Bay is in that situation right now. Ryan Grant—done for the year. Starting safety Morgan Burnett—on the shelf. MLB Nick Barnett has a wrist injury. And, OT Mark Tauscher is dealing with a shoulder injury that may be more significant than we think, according to the NFP's Brad Biggs.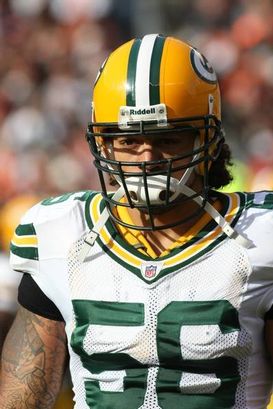 ICONGreen Bay's Nick Barnett.
You can always find a way to make it through a Sunday. One example that always sticks out in my mind was back in 2002, playing for the Packers. Went into New England and beat Tom Brady and the Patriots with a makeshift secondary. Three of four starters on the sidelines in street clothes. We dressed—and played—guys in the secondary that came into town, worked out on Tuesday, signed a contract and ended up playing seeing significant minutes.
But, that is one game. Can you do it for three-quarter of a season? In reality, why not? Players often times surprise us, as do seasons in general. Count a team out, and suddenly they are playing meaningful football in January. Names we didn't talk about in camp are now starters, producing and playing big roles for the entire season. I saw it my whole career, because once that ball is kicked of opening day that entire script is flipped upside down. Camp becomes irrelevant, and once someone goes down, there is no time to panic. Bring players in to work out on Tuesdays, make quick and efficient changes to that roster and start game planning again for the next opponent.
And, when it comes time for someone to make a play on Sunday, you count on your leaders. In Green Bay that is QB Aaron Rodgers and CB Charles Woodson. The rest of the roster compliments your top tier players on both sides of the ball. Teams rally around those leaders.
Panic time in Green Bay? I don't see it—because every player has been in this situation during the season. You expect, and sometimes welcome it, as a player. Injuries are part of that adversity we talk about in the NFL. Nothing new to pro players.
Follow me on Twitter: MattBowen41
Want to work in the NFL? Click here to register for the NFP's "Chalk Talk" seminar in Chicago on October 22nd.