December 08, 2010 -
Matt Bowen
Even without McDaniels, don't count out Tebow
Now that Josh McDaniels is out in Denver, fired before he could complete two full seasons as the Broncos head coach, we will start to hear names surface. Big names like Jon Gruden, Bill Cowher, Stanford's Jim Harbaugh, etc. I say go defense, such as Gregg Williams of the Saints or Ron Rivera of the Chargers. But that will all play out.
Regardless of the name that gets the job, there has to be a strong effort to work with quarterback Tim Tebow—the first round player that was brought in by the now departed head coach.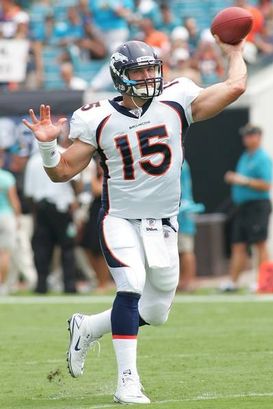 ICONDeveloping Tebow should be a top priority for the new Broncos' coaching staff.
I have heard it all since McDaniels was let go concerning Tebow. Ideas that he will be traded or even cut. I don't buy any of it, because that isn't how you develop first round talent. You don't discard top draft picks—because it can damage a franchise. They are an investment, and that means you spend extra time working with them, and in reality, providing them with more opportunities.
One of the first priorities when that new Broncos' staff is put together should be to find a talented—and young—QB coach who is going to work endless hours with Tebow. Everything from footwork, to ball placement, route progressions, eyes, understanding defensive schemes, etc. On the field and in the classroom the entire offseason—everyday. Find a way to make it happen. It isn't going to be easy and the new Denver staff will have to break him down, but it has to be done.
What we saw from Tebow in McDaniels' scheme was "fun" football. Gadget plays with gadget formations and personnel. Without a doubt they cause issues for the opposing defense and require them to waste valuable practice time preparing for something outside the normal framework of the offense. I get that and I also understand why McDaniels used him in that fashion as a rookie. Find a way to get him on the field.
But after four more weeks, he isn't a rookie anymore. And this is when it becomes crucial for the Broncos organization to start working with their first round pick. Develop him into a pro quarterback that can control the tempo of the game and do more than just "manage" an offense. You want a player that can be the leader of that offense for years. A dropback passer that can run an NFL playbook.
Is it possible? Can Tebow become a legitimate No. 1 QB in the NFL? Maybe, but that is for the new staff to find out. All of those questions about Tebow's projected abilities are still out there, and it is their job to find some answers.
Follow me on Twitter: MattBowen41