September 04, 2011 -
Matt Bowen
Expanding Asomugha's role in Philly
Last week, I talked coverage and scheme when discussing Saints TE Jimmy Graham—a player I see causing serious matchup issues in the secondary. I listed some base coverages (Cover 7, Cover 2, etc.) I would carry on my call sheet to try and counter the Saints ability to move their TE into multiple alignments.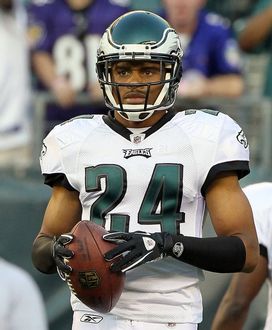 Like Woodson in Green Bay, the Eagles can use Asomugha in multiple roles on defense.
However, the one defensive player that would give me the ideal matchup vs. Graham—regardless of coverage scheme—is Green Bay's Charles Woodson. Unique talent that can align at CB, play inside of the numbers and blitz off the edge.
And after reading today's Sunday Blitz from the NFP's Dan Pompei, why can't we add Philly's Nnamdi Asomugha to the list of elite talent on defense that plays a hybrid role in the secondary?
According to Pompei, the Eagles are expanding Asomugha's game outside of the press-coverage he played in Oakland. Align him in some off-man looks, play him inside over the slot, etc.
Think of the Packers with Woodson. He can walk down over a TE (essentially playing the SS role in the box), match the "two-way go" of a No.2 receiver inside of the numbers, drop to the deep middle of the field or play as a deep half safety.
And that's on top of what he can do outside of the numbers playing press or off-man.
But the key here is what Woodson can do playing over a Graham, Antonio Gates, Jason Witten, etc. That's the matchup answer you want as a defensive coordinator.
Philly can get that with Asomugha. Size, length, top end speed and the ability to use his hands at the line of scrimmage. Get a TE removed from the core of the formation and Asomugha can play press. Move him inside and he can win on 3rd down situations.
Plus, if you want to get creative and scheme an offense (like we see from Dom Capers in Green Bay), use Asomugha to create pressure on the QB.
Philly has that with Asomugha. Let's see how they use him come next Sunday.
Follow me on Twitter: MattBowen41