September 13, 2011 -
Matt Bowen
Fade route to Hartline? That's bad football from Miami
I want to take a quick look back at the Patriots-Dolphins game from last night and focus on a crucial situation for Miami—because I have to question the play calling.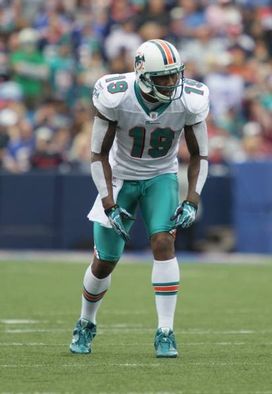 ICONWant to throw the ball on the goal line? Then get Marshall involved.
Down by 14 points in the fourth quarter, the Dolphins had a fourth down situation at the 1-yard line. What did we see? The fade route (from the opposite hash) to WR Brian Hartline. A long throw for QB Chad Henne. That's bad football right there.
Did the Dolphins have options? Of course…let's check them out.
- Bring Tank personnel (1 WR, 2 TE, 2 RB) on the field and run the classic downhill scheme: the Power O (Guard pull, FB kickout). Win up front at the snap, don't allow defensive penetration and have Reggie Bush follow that guard right up through the hole.
- Get the ball to Brandon Marshall. Hey, if you want to throw the fade, align Marshall in a reduced split to the field and give him some room to play with. Or, run a 3-step slant. Because if you go to the passing game, his number has to be called in this situation.
- Spread the field and use Bush. Think of a RB aligned in a "chowed" position (on the outside leg of the offensive tackle). Here's what you get: the option route or the angle route. Get him in a matchup where he can work away from the defender's leverage.
Get a score in that situation, and the Dolphins have a ball game on their hands. Enough to come back vs. Brady and the Pats? Probably not, but when the Dolphins watch the tape today, they have to realize the ball needs to be in the hands of Bush or Marshall in that situation.
And we know what happened on the next play: Brady to Welker for 99-yards. Game over.
Follow me on Twitter: MattBowen41