December 26, 2011 -
Matt Bowen
Falcons-Saints: What to watch for tonight
Let's talk Falcons-Saints as we look ahead to kickoff tonight down in New Orleans in a game that could decide the NFC South title. Here are three things to keep an eye on—starting with Drew Brees' production.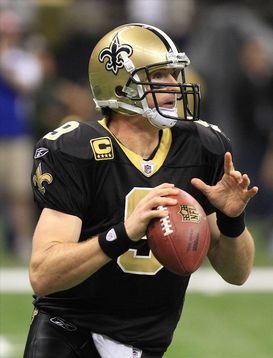 ICONThe Falcons have to limit Brees and the matchups the Saints can create on offense.
1. Saints' offensive production: Over the last five games, the Saints QB' has thrown for 1,700-plus yards with 16 TDs (and zero INTs) as he gets closer to breaking Dan Marino's single-season passing record. The Saints are one the toughest offenses in the league to prep for because of what they do from a personnel and formation perspective. Brees will work the entire route tree, target TE Jimmy Graham and RB Darren Sproles in one-on-one situations and work WR Marques Colston vertically inside of the numbers. How do the Falcons limit that production? Atlanta needs to produce pressure off the edge, move Brees in the pocket and play top down in the secondary to keep the Saints out of the end zone.
2. Falcons' play calling: One way to limit the numbers of Brees is to keep him off the field with an offensive tempo that grinds clock and moves the sticks. The Falcons will use empty sets and spread the field, but they can ride Michael Turner in their downhill run package. Plus, when you can establish the run game and control the line of scrimmage, the deep ball comes into play. With Julio Jones and Roddy White, the Falcons can work the ball off of play action and give QB Matt Ryan some opportunities to flip the field.
3. Game planning Tony Gonzalez: I would still take Gonzalez when matched up with the majority of the safeties in the NFL because he one of the best route runners at the TE position. What I want to see tonight is how Saints' DC Gregg Williams game plans Gonzalez on third downs and in the red zone. Can SS Roman Harper consistently play the Falcons' TE on inside breaking concepts, the 7 (corner) route and double-moves in the red zone? Or do we see Williams matchup FS Malcolm Jenkins vs. Gonzalez? The Saints will play some blitz-man coverage in the secondary in their pressure packages. Keep an eye on this matchup.
Follow me on Twitter: @MattBowen41