September 19, 2012 -
Matt Bowen
Film session: Eagles' 'Hi-Lo Triple-In Flood'
Click here for the entire Inside the Playbook series.
Click here for the previous "Film Session" breakdown.
Back in the pre-season, I broke down the Xs and Os of two Eagles' red zone concepts: Sprint Flat-7 ("Spot") and Hi-Lo Triple-In. The same concepts that Andy Reid has been running in Philadelphia for over a decade out of multiple alignments and personnel groupings (routes I saw as a player vs. the Eagles).
And when we talk about defending the Eagles, limiting the Hi-Lo series (Hi-Lo, Hi-Lo Crossers, Hi-Lo Opposite, Hi-Lo Triple-In, Hi-Lo Triple- In Flood) is crucial to seeing production in the secondary. Because when they need to make a play, this is the series you should look for.
Today, let's go back to the Eagles 24-23 win over the Ravens and break down the "Hi-Lo-Triple-In Flood" out of Posse personnel from the "All-22" film.
Ravens vs. Eagles
Personnel: Posse (3WR-1TE-1RB)
Alignment: Doubles Slot Trump Wing
Route Concept: Hi-Lo Triple-In Flood
Defensive scheme: Cover 2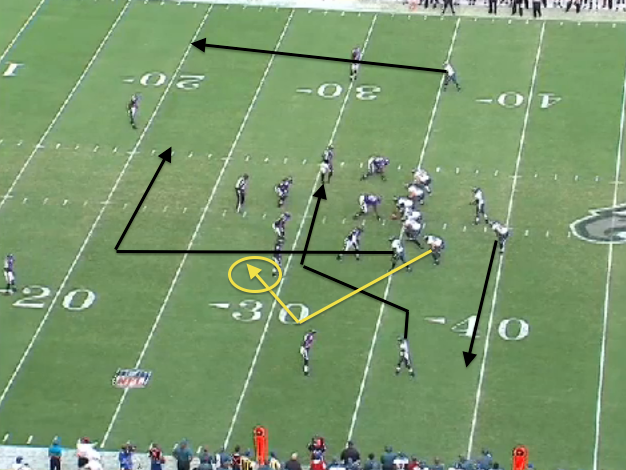 - Start with the situation: 3rd and 2-6, ball on the plus-33 yard line, down 23-17 with under 4 minutes in the game. Big play in the football game. This is when you go to your top concepts (or schemes) as a play caller. Roll out your "Gotta Have It" play.
- As I said above, the Eagles use multiple alignments/personnel to get to their "Hi-Lo" series. Here, Philly has Posse on the field and they motion WR DeSean Jackson (Z) to the core of the formation (create a bunch look).
- Think inside breaking cuts with the Eagles. The slot WR (W) will push up the field and run the dig (square-in) with Jackson on the underneath crosser. From the "wing" alignment, TE Brent Celek (Y) will run the "angle route" (stem to the numbers, break back to the middle of the field). Three routes that break back inside of the numbers ("Triple-In").
- By sending RB LeSean McCoy on the "swing" route to the closed (strong) side of the formation, Philly now has a "4-strong" look ("Flood").
- With the Ravens playing Cover 2, Celek will find the hole vacated by the Mike Backer and between the two "seam-hook" defenders. Easy target for QB Michael Vick. Move the sticks and continue the game winning drive.
Follow me on Twitter: @MattBowen41