September 20, 2012 -
Matt Bowen
Film Session: Seahawks' zone pressure vs. Cowboys
Click here for the entire Inside the Playbook series.
Click here for a "Chalk Talk" breakdown of a base Zone Blitz.
When you see zone pressure in the NFL, look for defenses to rush five, drop six and create a 3-deep, 3-under zone shell in the backend. That's what we saw from the Seahawks' this past Sunday in their win over Tony Romo and the Cowboys on Brandon Browner's INT.
Let's go to the "All-22" film and breakdown the pressure scheme vs. the route concept.
Cowboys vs. Seahawks
Personnel: Ace (2WR-2TE-1RB)
Alignment: Doubles
Route: Slant-Flat (2212)
Defensive scheme: Zone Blitz (SS and Mike)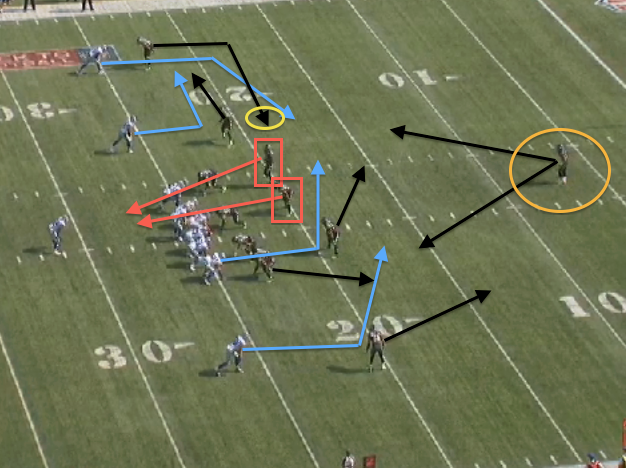 -Ace personnel on the field in a 2x2 "Doubles" alignment. To the open side of the formation, the Cowboys have the "U" TE (2nd TE in the game) removed as the No.1 receiver with both Dez Bryant and Miles Austin in a slot look to the closed side of the formation.
- Basic concept here from Dallas. Double Slant to the open side with a Flat-Slant combo to the closed side. This is what you want vs. pressure. 3-step routes.
- As I said above, Seattle is rushing five. Both the SS and the Mike will pressure to the closed side of the formation. The Sam Backer (walked out over the slot) and the open side DE will play the "Seam-Flat" techniques with the Will Backer dropping to the "Middle Hook." That leaves FS Earl Thomas in the deep middle of the field and both CBs playing a Fire Zone Outside 1/3 drop. 3-deep, 3-under: the base coverage in a zone pressure.
- The ball has to come out. You can block up man five-man pressure in the NFL with the back staying in on protection, but the QB still has to make quick decisions in the pocket on inside breaking routes. Romo hesitates, allows pressure to get up the field and forces a ball in-between the numbers. With Browner playing the slant to the closed side, all he has to do is step in front of this throw and make the play.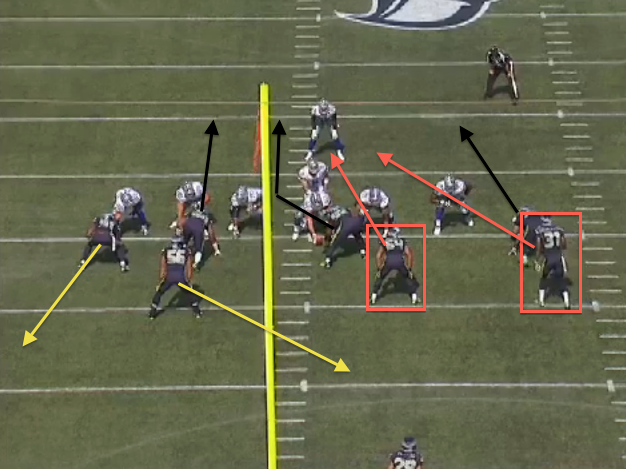 - Here is a look at the pressure from the end zone angle. Seattle is in an "Under" front (Nose shaded to closed side of the formation). With the Nose "scooping" to the open side A gap, the Mike Backer (Bobby Wagner) will rush to the closed side A gap with the SS (Kam Chancellor) hitting the closed side B Gap. This is a blitz front the Cowboys have seen before, but when you don't execute (and throw the ball late over the middle vs. a zone based coverage scheme) it will lead to turnovers.
Follow me on Twitter: @MattBowen41