January 03, 2011 -
Matt Bowen
Fire Tom Cable? That's bad football
Who is with me today when we talk Tom Cable and the Raiders? Because no matter how you spin it when it comes to the future of this franchise, the idea of firing the Oakland head coach is plain and simple bad football.
That is the best way I can say it. We are talking about a coach that has Oakland playing competitive football again. A team that has a physical style on both sides of the ball that just swept the AFC West this season. A 6-0 mark in divisional games—which is extremely hard to do in today's NFL. Cable did that as well as turn this bottom feeder into a team that can win on Sundays.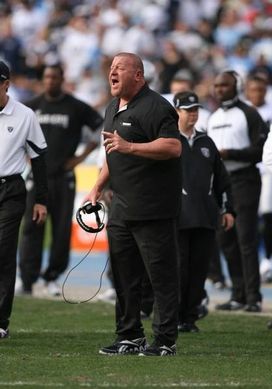 ICONAl Davis can make another questionable move by firing head coach Tom Cable.
I agree that 8-8 is, well, 8-8. It isn't time to throw parades in Oakland because they have moved on from a team that players in this league used to laugh at—and ignore—when it came time to pick a new home in free agency. No one wanted to play in Oakland back during my career. And that is the honest truth; because they knew it was going to involve change and possibly starting over from year to year.
More importantly, playing in Oakland didn't add up to winning. And no one wanted to pay the price of preparing for Sundays only to come up short time after time. Players went there for the money—and that's it.
However, I see a coach in Cable who can change that. This team has somewhat taken on his own personality. They aren't as easy win on Sunday anymore, and from the players I have talked to, you better bring your "big boy" pads if you want to line up against the Raiders under Cable.
But, we can't talk about the Raiders without Al Davis. Once again, the owner wants change—immediate results. I get that, but at what cost? Is starting over—again—really a solution to becoming a consistent playoff team in the NFL? And, let's be honest here, what big name coach is going to beat down the owner's door to get a crack at this gig?
There has been talk of offensive coordinator Hue Jackson taking over. I know coach Jackson from my time in Washington playing for the Redskins. He was part of Steve Spurrier's staff and I do respect his ability to coach offensive football. However, he isn't ready to be the headman yet in the NFL—and he isn't an upgrade over Cable.
And maybe that's it. I guess we shouldn't understand Al Davis and his decisions to run this franchise into the ground. The owner has an opportunity to allow a coach to build on some success from the 2010 season.
But that would too easy—and smart—for Davis
Follow me on Twitter: MattBowen41