January 24, 2012 -
Matt Bowen
Five players to watch at Senior Bowl practice today
Click here to check out the NFP's Draft Page
With both squads in full gear today, I expect the competition level to rise down here in Mobile at the Senior Bowl practices. And here is a list of five players I will be watching today in one-on-ones, 7-on-7, etc. Some talent to check out at both practice sessions.
Nick Foles, QB, Arizona: I had a chance to sit down and talk with Foles last night—and I was impressed with his maturity. Now I want to see him on the field vs. some of the top DBs in the country. Can he drive the ball on the skinny post vs. Cover 1, throw the intermediate dig route and work the top of the vertical game? Throughout this week in Mobile I would expect Foles' stock to rise.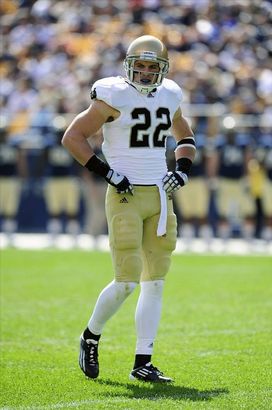 ICONNotre Dame's Harrison Smith has the size (6-2, 212) to play the strong safety position in the NFL.
Harrison Smith, S, Notre Dame: NFL scouts see the Notre Dame product as a strong safety in the league and I can't disagree with that. Watching him in practice on Monday, Smith looked confident in man-coverage vs. the TE in Cover 1, was patient with his footwork and took solid angles to the ball. And today we get to check him out in full gear playing in the run front. There is definite value here with Smith as a rookie on special teams, but I also see a player that can develop at the pro level with his size (6-2, 212).
Courtney Upshaw, DE, Alabama: Upshaw looked the part at weigh-ins on Monday and I am interested to see him during inside run drill and one-on-one pass rush. Multiple NFL scouts I talked to see Upshaw as a 3-4 OLB on Sundays, but don't count out 4-3 teams that are looking for a rush end in their nickel sub packages. Speed off the ball will be the key for the Alabama product this week.
Jamell Fleming, CB, Oklahoma: Believe what you see. That's what I thought with Fleming on Monday in one-on-one drills vs. the WRs. He can play more aggressive, drive on the slant or the out and open his hips quicker on the 9 (fade) route. The talent is there, but the CB has to relax, trust his eyes and play through the route stem. Every CB I watched yesterday was hesitant playing off-man coverage. I expect that to change today.
Dwight Jones, WR, North Carolina: The WR measured at 6-3 and weighed in at 226-pounds. Think of inside breaking routes and the 3-step game with that size at the WR position. Two things I am looking for today: can Jones create separation in one-on-ones and what kind of speed does he have coming out of his cuts? I do like the size here, but let's see if it translates vs. the top talent in Mobie.
Stay with the NFP all week for our Senior Bowl coverage from Mobile.
Follow me on Twitter: @MattBowen41