February 21, 2011 -
Matt Bowen
Five possible landing spots for Bob Sanders
On Friday, I ran through my notes on safety Bob Sanders after his release from the Colts. A player I see that can still contribute—and act as an upgrade—for some rosters in the NFL. Injuries are a concern with Sanders. There is no way around that. But, when healthy, all you have to do is turn on the tape to see him impact on Sundays.
There will be interest for the former Indianapolis safety. Let's look at five teams (outside of the possibility of re-signing with the Colts) that need to give Sanders a call.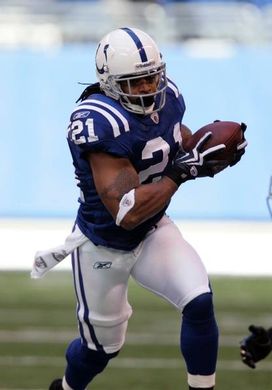 ICONExpect to see some interest for Sanders once we start free agency in the NFL.
1. Buffalo: There is some interest on the part of the Bills. Buffalo has a player in safety Jarius Byrd who will go after the football, but they need another impact player at the position. Donte Whitner wasn't the play maker Buffalo envisioned when they made him a first round pick, and with his contract up, the Bills could look at Sanders to possibly slide into the secondary in 2011. The question for defensive coordinator George Edwards would be where to play him: at free or strong.
2. Minnesota: The Vikings must address the safety position this offseason through free agency or the draft (which boasts a very average class coming out). If you want to play Cover 2, you need safeties that can play the top of the defense. There is a history between head coach Leslie Frazier and Sanders (which helps veteran players out in free agency) and there is familiarity with the defensive schemes. Sanders can get off of the numbers in Cover 2, play the deep middle of the field in their single high safety defenses or roll down into the run front. Bottom line: the talent of the Vikings' depth chart at the safety position needs to be upgraded.
3. Washington: LaRon Landry is one of the top young safeties in the game from my perspective—but there is a revolving door at the free safety position. Sanders is an ideal fit for safeties coach Steve Jackson (who wants physical players that understand pro offenses), and the Redskins can find a spot for him in Jim Haslett's 3-4 pressure scheme. Plus, we know owner Dan Snyder isn't afraid to add a player with some name value. If anything, sign Sanders and let him compete in the Redskins' secondary this summer at training camp—because I think he would fit alongside Landry.
4. Dallas: There has already been talk of the Cowboys taking a look at Rams safety O.J. Atogwe (who was just released) and we should add Sanders name to the list as well. Dallas has two corners in Terrence Newman and Mike Jenkins that can play man coverage, but with that comes a need for a safety that can get from the middle of the field over the top of any vertical route outside of the numbers. Sanders—like Atogwe—has that ability. A team to keep on eye on once we hit free agency—because the draft class coming out at the safety position doesn't have big talent.
5. Chicago: Think immediate upgrade for Lovie Smith's defense. That's how I see it. FS Chris Harris did have a solid season in 2010, but the Bears could add Sanders to play alongside Major Wright in the secondary. And just like Minnesota, Sanders is walking into a scheme that he knows. However, the overall talent is what Chicago needs in their secondary to compete with Aaron Rodgers and the Packers. Why not give Sanders a look? He could be a fit.
Follow me on Twitter: MattBowen41