December 28, 2011 -
Matt Bowen
Five Pro Bowl 'snubs'
The NFL's Pro Bowl voting is always a suspect process (including the player's vote). One that leads to plenty of questions every year after the rosters are announced. And after checking out the squads for both the AFC and NFC last night, there are some obvious names missing from my perspective. Here is a list of five players I felt deserved a plane ticket to Hawaii.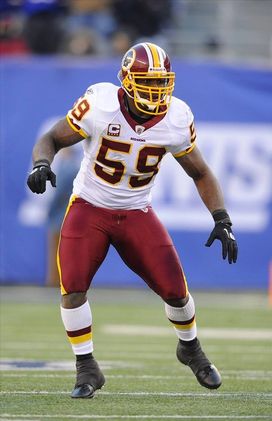 ICONFletcher's production should earn him a invite to the Pro Bowl.
1. London Fletcher, LB, Redskins: The Redskins' MLB is productive, accountable and continues to play the Mike Backer position as good as any player in this league. 193 tackles, 2 sacks, 2 INTs and 3 forced fumbles. Those are Pro Bowl numbers for a player that stands out each and every time you turn on the tape. No question I would have selected Fletcher over the Bears' Brian Urlacher.
2. Matthew Stafford, QB, Lions: Stafford over Eli Manning? That's how I see it. The Lions' QB has his team in the playoff for the first time since the 1999 season and has the numbers to go along with it: 4,518-yards, 36 TDs and 14 INTs. Detroit has done an excellent job of adding talent around the QB position, but this offense still runs through Stafford. Can't leave him off the NFC roster.
3. Victor Cruz, WR, Giants: Cruz doesn't have the rep of a Greg Jennings, but he has the numbers and was a consistent big play threat all season for the Giants. The WR caught 76 passes for 1,358-yards (good for a 17.9 yard per catch average) to go along with 8 TDs. Hard to ignore those numbers when casting a vote.
4. Jermaine Gresham, TE, Bengals: I'm taking Gresham over San Diego's Antonio Gates this season. The second-year player caught 6 TD passes on 51 receptions in Jay Gruden's new offensive system and is going to continue to develop with Andy Dalton at QB. Gates may have slightly better numbers, but Gresham was the better overall player at this position this season.
5. D'Qwell Jackson, LB, Browns: How much longer is the Ravens' Ray Lewis going to get a free pass when it comes to Pro Bowl voting? Again, we are talking about production in the 2011 season—and that's what you get with the Browns' LB. Jackson posted 145 tackles, 3.5 sacks, 1 INT and 1 forced fumble. Didn't play on a great team, but the numbers are legit.
Follow me on Twitter: @MattBowen41