December 07, 2011 -
Matt Bowen
Five questions: the NFC Wild Card race
This is what we know in the NFC: the Packers are making a run at 16-0, Harbaugh's 49ers are built like a playoff team and the Saints are playing their best football of the season. After that? A handful of teams that have issues and aren't playing at a consistent level. Here are five questions to ask about the NFC Wild Card race with four weeks to go in the 2011 regular season.
1. Who wants to win the NFC East?: I want to buy the Cowboys as a playoff team and the NFC East Champ, but the production has to come from QB Tony Romo and Rob Ryan's secondary. With the Giants, we are talking about a 6-6 club that gets red zone production (and big plays in the vertical passing game) from QB Eli Manning. However, it is pretty simple when we break down New York's defense—because they can't stop anyone right now. We will find out something on Sunday night (and again in Week 17) when these two teams matchup. Plenty of football left to be played in the NFC East.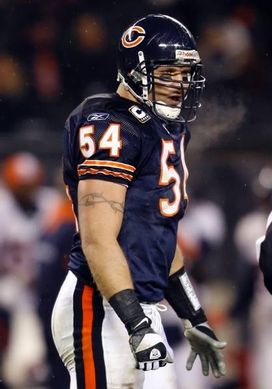 ICONNo Cutler or Forte? Then its on Urlacher and the Bears' defense if Chicago wants to grab a Wild Card spot.
2. Will the Bears survive?: Backup QB Caleb Hanie regressed in his second start and the defense didn't provide any impact plays in a bad loss to the Chiefs. The Bears will have to ride RB Marion Barber from here out on offense and hope to see some improvement from Hanie when he has to make a throw on 3rd downs. But the bottom line is the play of Lovie Smith's defense. Urlacher, Peppers, Briggs, Tillman, etc. The veteran names have to provide filed position and take the football away if Chicago is going to hold onto a Wild Card spot. This is a much different team than we were breaking down just a couple of weeks ago when Jay Cutler and Matt Forte were both in uniform. This Sunday: a trip to Denver to take on Tim Tebow and the Broncos in a game the Bears must have.
3. Are the Lions most talented Wild Card threat?: Detroit can move the ball consistently on offense and when Ndamukong Suh comes back from his suspension, the Lions' front seven can play the run and pressure the QB. Matthew Stafford will continue to put up numbers and with Calvin Johnson they can test the top of any defense in the NFL. What concerns me is the production in the run game and lack of discipline we see on game days. A true sign of a young team that doesn't have playoff experience. Size up the talent in Detroit and we should be looking at a playoff team. But in order to do that, the penalties and mistakes in crucial game situations can't continue to show up.
4. Can anyone figure out the Falcons?: All season long I have tried to convince myself that the Falcons are a legit contender in the NFC. Just look at what Atlanta has on the offensive side of the ball: Matt Ryan at QB, the downhill run game with Michael Turner, a TE that still work over a safety and true speed outside of the numbers in Julio Jones and Roddy White. And on defense we are talking about a unit that has speed and can blitz off the edge. However, just this past Sunday the Atlanta offense was shut down in Houston, Ryan threw 2 INTs and they didn't win up front defensively in a 17-10 loss. There are four weeks left and the Falcons hold the tiebreaker over the Lions. Time for them to win.
5. Can the Seahawks or Cardinals make a late season push?: This is interesting from my perspective because both of these clubs are playing good football. The Seahawks can run the ball with Marshawn Lynch and force turnovers on defense. With the Cardinals, we are looking at a club that generates big plays in both the return game and on offense. The question here is simple: with only four weeks left, can two 5-7 teams win out and jump into the playoff picture. I don't see it happening, but this is a week-to-week league. A lot can change in the month of December. Stay tuned.
Follow me on Twitter: @MattBowen41