August 10, 2010 -
Matt Bowen
Five rookies in the preseason spotlight
Now that we have some game action to look forward to this August after the Bengals and Cowboys kicked off the preseason on Sunday night, let's talk rookies. Five names that we should focus on this weekend when the rest of the league dresses up and throws these first-year players into game situations. What do we look for? How do we judge performances? These are questions we need to ask, and hopefully, we'll gain some answers.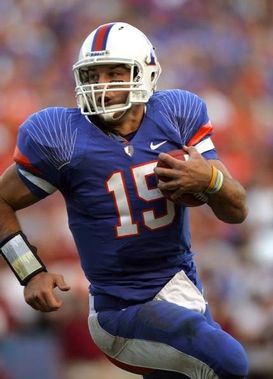 ICONTebow will get his first taste of game action.
Tim Tebow, QB, Denver
We know the hype surrounding the former Gator — and we all want to see what he can do on the field. But, forget the exotic plays and different personnel groupings that head coach Josh McDaniels will use Tebow in as a rookie once the regular season game plans are handed out. This weekend, let's watch him at QB — because eventually, he is going to be the No. 1 in Denver at some point in his career. Focus on his ability to run the basic offense, his footwork, his patience (or lack thereof) in the pocket. Can he go through his route progression, and can Tebow put together a drive that results in points? Game competition is a step up from two-a-days when it comes to QBs. But if Tebow struggles, don't read into it too much. Carson Palmer looked shaky on Sunday night. It is all a part of the process.
Taylor Mays, S, San Francisco
I'm excited to watch Mays as a pro because I have so many questions. The knock on the USC star this past April leading up to the draft was his lack of playmaking ability. Let's see how he handles the safety position in the preseason. He should be a player in the run front. A guy who can fill the hole, shed a block and make a play. But, what about the middle of the field? In Cover 2? As a safety in a blitz scheme? The overall talent is enormous, but the toughest thing for rookie safeties in the preseason is the angles they take to the football. You can't undercut routes in the NFL like you did in college ball, and when you are in the open field, if you take a bad angle it will result in a missed tackle. Technique will be the biggest obstacle for Mays. But, don't forget special teams — he should be all over the field and a matchup nightmare.
Toby Gerhart, RB, Minnesota
Big fan of Gerhart coming out of Stanford. He has a unique downhill style that is ideal for the NFL game. He doesn't dance and he doesn't hesitate getting to the hole. I like that in an NFL back. But, what about the rest of this game? The pressure schemes in the preseason are generic and vanilla when compared to what we see in September, but for all rookie backs, it is crucial that they are able to pass protect in game situations. He will see both man and zone pressures, and although No. 4 isn't going to be there, you can't get on the field if you are the one that gets him hit in the regular season. And, he has to catch the ball out of the backfield. There is some production to replace now that Chester Taylor is in a Chicago Bears uniform.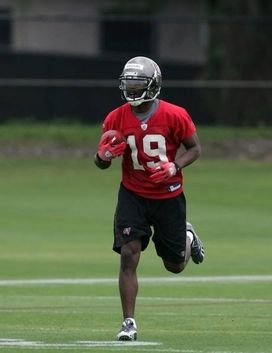 ICONTampa's Mike Williams.
Mike Williams, WR, Tampa
Rookie receivers are always hard to judge. They are inconsistent and once we see them in game action, our opinions often change. But, for Williams, he looks the part so far. Talk to anyone down in Tampa and they will tell you how good he has looked this offseason and so far in training camp. Williams has top-tier skill when we look at what he can do on the field, and now he just has to have a mature, professional attitude to keep up the momentum. I want to see him stretch the field and make plays in the red zone this August — where he can develop into a top target for QB Josh Freeman. Still some questions to ask. Can he convert routes vs. pressure looks? Can he beat press-man at the line of scrimmage? How does his top-end speed compare to CBs in this league? Can he block in the run game? Lots of talent with Williams — now he has to show the Bucs he can handle the competition.
Joe Haden, CB, Cleveland
Rookie cornerbacks are tested in the preseason — often. I have seen defensive coordinators run blitz schemes knowing that a rookie CB would be challenged, just to put him in an adverse situation. Haden should expect this, on top of his work on special teams. When watching rookie CBs, look at their feet. Can he play off-man, turn his hips, plant and drive on the throw? False steps in this league get you beat. When Haden is aligned in a press-man look, does he use his hands at the point of attack, turn and run with the receiver without losing leverage? Simple techniques for the position, but this isn't college football anymore. Athletic skills aren't enough to win one-on-one matchups. And, let's not forget his ability to tackle. It is a skill we often overlook at the CB position.
Follow me on Twitter: @MattBowen41
Click here to purchase the Total Access Pass/ Fantasy Draft Guide from the NFP and receive a free Deuce Brand watch while supplies last.