July 28, 2012 -
Matt Bowen
Five things to watch when the pads go on
Tonight I will be heading down to Bourbonnais, Illinois to check out the Bears in their first padded practice of training camp. No more shells, "tagging" off on ball carriers or receivers running through the middle of the field knowing they won't get touched. When the gear goes on, you will find out who wants to hit and play a physical brand of football in this league.
Here are five things you should watch when you head out to a padded practice during an NFL training camp.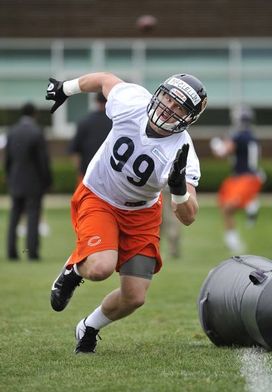 Bears rookie DE Shea McClellin will get his first look at one-on-one pass rush tonight in practice.
1. Tackling: I talked about the No.1 defensive technique in football this morning and now we get to see it up close with the pads on. Think technique here and explosion on contact. Take the proper angle and wrap your arms on the ball carrier. Even when the drill isn't live, you are looking for defensive players that come to balance, "thud up" the ball carrier and drive their legs. If you can't tackle, you won't play. Be a physical football player.
2. One-on-One pass rush: Speed, footwork, hands, counter moves, etc. Curious about a DEs ability to get to the QB or a LT protecting the edge? Then check out pass rush drills. They are physical, nasty and tell you who is ready to play. It is the top drill I come to see at an NFL camp because there is no RB sliding in protection. Both players are under the spotlight. And often times, someone will get exposed when they are put on an island.
3. Inside run drill: Also called "9-on-7," this is a run based drill. As a safety, get in your stance, read your keys and come downhill to fill the hole. You will see the base NFL power run game (Power O, Counter OF, Lead) and eight-man fronts from the defense. No play action here. It is time to line up and come off the ball. Set your pads and get ready to hit because this is an intense drill. And there is nowhere to hide.
4. Press-coverage/secondary play: In shells, DBs will play from an off-position, drive on the 3-step game and "tag" the WR on the hips. Good technique work there, but with pads on, we will see some press-coverage in one-on-ones, 7-on-7 and 11-on-11 team. Rookie WRs will be introduced to the physical style of play outside of the numbers and DBs will now make plays on the ball in Cover 1, Cover 2, Cover 4, etc. The competition level will rise.
5. Special teams drills: I wrote about the importance of special teams work for rookies last week and the evaluation process is about to take a step forward. Check out the battles at the "gunner" position vs. a double-team, the front line of kickoff return dropping back to set their blocks vs. speed, etc. For many rookies and veteran bubble players, this is how they will make the squad. And in full gear, these drills are fast and force you to hit as a player.
Follow me on Twitter: @MattBowen41