August 10, 2011 -
Matt Bowen
For Clausen, preseason is an audition for entire NFL
This is a big preseason for Jimmy Clausen. On top of the depth chart entering Saturday night's game at home vs. the Giants, the Panthers' QB has an opportunity to put some good play on tape—and eventually enter the season as the No.1.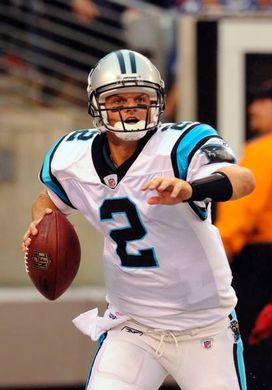 ICONThe game tape Clausen puts together this preseason will be graded by the Panthers and the rest of the NFL
Think about it from this perspective: Cam Newton was brought in to be the future of the QB position in Carolina.
Is he there yet? Probably not, but as the preseason rolls on the development process into the NFL will start to take shape for the Panthers' top pick. And Ron Rivera will eventually hand the offense over to the rookie.
However, starting Saturday this is Clausen's offense. And if you want to stay relevant in this league (especially at the QB position), the production has to be there.
Clausen is auditioning for the Carolina coaching staff to enter the season as the No.1, but he is also putting his play on tape for the entire league to see.
And after a lack of production as a rookie in 2010 for the Panthers, the former Notre Dame product has to show the NFL that he can be a starting QB at this level.
That begins in August. Yes, the game plans are boring, lack detail and are complied with basic concepts that are in every NFL playbook. I saw that during my own career.
But the focus will be on Clausen's ability to protect the football, make good decisions in the passing game and put together drives that result in points.
Like I said above, Newton is going to take over this football team at some point. The rook has talent that could be really special at this level. But until we see that go down, Clausen is the player with a big opportunity in from of him as the NFL preseason schedule is about to kick off.
Follow me on Twitter: MattBowen41