May 02, 2012 -
Matt Bowen
For Janoris Jenkins, 'accountability' is the key
Janoris Jenkins can play some football. You could see that when he was at Florida (before he was dismissed from the team) and during his senior season at North Alabama. The same can be said for Jenkins' week of practice at the Senior Bowl.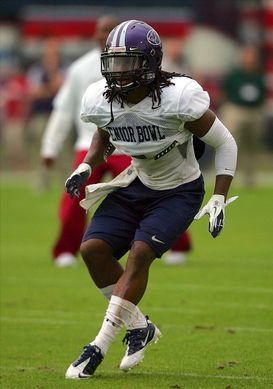 ICONJenkins has legit talent, but he needs to act like a pro to succeed in the NFL.
The best DB I saw on the field down in Mobile—and plenty of pro scouts agreed with me.
He moves like a pro corner. Smooth feet to go along with the confidence in his technique. Turn on the tape and it's easy to be impressed with his skill set.
The character issues? Those are a concern. Because for as much ability as Jenkins has on the field, his actions off of it lead to questions.
But talent still sells in the NFL. And although he did slide down some draft boards, the Rams invested a second round pick in the CB.
Moving forward, Jenkins has to realize that he isn't on scholarship anymore. There are no bed checks in the NFL and it isn't the job of the coaching staff or the veterans to take care of him. You don't do that with pro ball players.
Those days are gone; replaced by expecations to conistently produce and contribute to wins on Sundays.
Jenkins is now a paid professional. And with that comes a degree of accountability every player has to follow. Act like a pro or get cut. It can be that simple. I saw too many players with real talent during my career turn into "busts" because they didn't treat the game with respect.
We all know the Rams took some risk here drafting the CB. But I would have done the same thing to be honest. Just too much natural ability to ignore. And finding cover corners in the draft isn't as easy as it sounds
Playing in the NFL is a sweet gig and the paychecks are nice. The best job out of college you can get. And I hope Jenkins realizes that, because he can play for a long time if he handles his business on and off the field.
Follow me on Twitter: @MattBowen41