July 24, 2012 -
Matt Bowen
For most rookies, special teams are the ticket
"If you aren't a starter on offense or defense, you better be a starter on special teams…or we don't have a spot for you." –Danny Smith, Redskins special teams coach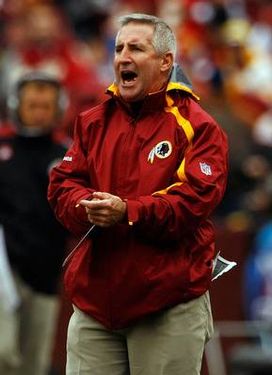 Rookies should take the advice of coach Danny Smith when it comes to playing a role on special teams in the NFL.
For the majority of rookies, special teams is the ticket to making an opening day roster.
No question it is a real adjustment from Saturdays in college where they were starters and contributors to the offensive and defensive game plans.
But that changes as a rookie in the pro game. And unless you are a first round pick that will get multiple opportunities to start on opening day, playing (and producing) on special teams is how you will earn a paycheck in this league.
I went through it as a rook with the Rams. No longer a starter at Iowa for the Hawkeyes, I was just a backup safety looking to make the squad. That meant covering kicks and taking a professional approach to special teams drills during camp.
That's why I posted the quote above from Danny Smith--one of the best special teams coaches I have ever worked with--because it's the truth at the NFL level.
You need to play a role to make a club and contribute on Sundays. And if it isn't on the offensive or defensive side of the ball, it is time for these rookies to run and hit on special teams.
There are four core units (kickoff, kickoff return, punt and punt return) and rookies need to find a spot on each one. It doesn't matter if you are a gunner, a left wing on punt team or an L5 on kickoff coverage. Give the coaching staff a reason to keep you around. And come cut day, every rookie has to understand how much power special teams coaches have in the staff meetings.
However, these core jobs aren't just handed to you. There are veterans (guys with 10-years in the league) that make a living producing tackles inside the 20-yard line, blocking on the front line of kickoff return and winning (consistently) vs. double-teams as a gunner on punt coverage.
These rooks have to compete for those jobs and eventually take them.
And let me tell you, it isn't glamorous work. The media won't give you much hype and they usually cut to a commercial in the games before your name is even announced after making a tackle. Plus, you will get the hell beat out of you at times on those high-speed collisions.
But it is a way to make the team. Because once you have done that, it buys you time to develop as a positional player on offense or defense, learn the Xs and Os of the pro game, work on your technique and fill a spot as a backup player (which creates opportunity throughout the season).
Get your foot in the door. That's always my advice to rookies as they prep for camp. Find a way to stand out on the practice field and throughout the preseason schedule. And for most of these first-year players (and the ones that have come before them), you do that a as a special teams guy.
Take some pride in covering kicks.
Follow me on Twitter: @MattBowen41