July 21, 2012 -
Matt Bowen
For NFL players, 'summer vacation' is almost over
That last weekend before you report for an NFL training camp goes by far too fast from a player's perspective. The anticipation of practice, full gear and the summer heat weighs on your mind as you try to squeeze in as much family time as possible before you report for work.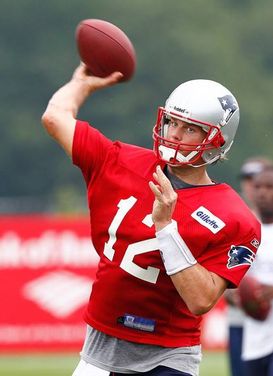 Brady and the Patriots will be on the practice field next week.
I always headed north from Chicago up to Lake Geneva, Wisconsin for the weekend before camp kicked off during my NFL career. Get out on the boat, drink a couple of beers (Milwaukee's Best Light back then) and try to relax before I checked into a dorm room.
You need that as a player because training camp is no fun. Under the late July and early August sun, the rookies are looking to survive while the vets are trying to hold onto starting jobs and prep for a long, long season.
And about the middle of that second week of camp—when your legs feel like cement and your head constantly aches—reality sets in. It can get pretty miserable out there.
But that's why I always valued the final days before I headed out of town. One final time to kick your feet up, catch an afternoon movie, hit the golf course, etc.
Your offseason training and summer conditioning drills should be wrapped up by now. There is nothing left to do from a physical standpoint and you hope the hours spent in the weight room (and doing functional football movements on the field) have paid off.
Report to camp and start competing. Its fast paced on the practice field and there is no time to look back during camp. Sure, the head coach might throw you a bone and give you a night off to hit up a local pub close to campus, but that's it.
Come next week, your days (and nights) are spent on the field or in meetings. Forget about the outside world and focus 100% on football. That's the drill.
So, this last weekend I'm talking about? Enjoy it—because you won't experience it again until the offseason.
Follow me on Twitter: @MattBowen41
Tomorrow: 10 Training Camp questions