July 16, 2010 -
Matt Bowen
For rookies, special teams is the ticket
Every rookie that heads to training camp later this month will be competing for something on offense or defense. A first round pick may be thrown in with the starters at the beginning of camp, but for most rooks they will be battling for back-up roles and a job in the various sub packages on both sides of the ball.
However, none of that matters if they can't play special teams.
During the regular season and throughout the playoffs, we will often talk about special teams: field position, a quick score, a turnover, etc. They carry monumental weight when we talk about Sundays. But don't forget how important they are in August for rookies. Because if you aren't a first or second round pick, you better play special teams—if you want a job in this league.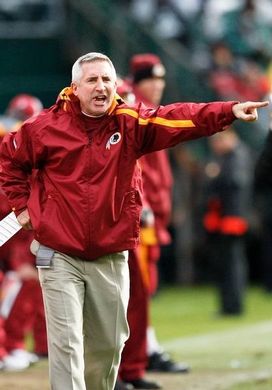 ICONRedskins' special teams coach Danny Smith.
This is a tough transition for most rookies who haven't covered a kick or had to block on the punt return unit since their freshman years in college. They usually took a knee at practice while the special teams units were going over their game plan for Saturday. Not anymore. There are only 53 players who make the opening day roster, and three of those guys are usually quarterbacks. You want to make an impression and get one of those lockers? Then make some plays on special teams in the preseason. Give the coaching staff a reason to keep you around, and, in reality, force their hand when they make the final roster cuts. Show them that you are too valuable to be kicked out on the streets.
Coaching staffs can work with a guy who needs polish as a positional player if he can show up on the kicking units. Look at it as a way to buy some time as you start to mature in film study and understand offensive and defensive schemes.
Danny Smith, the special teams coach in Washington under Joe Gibbs and now Mike Shanahan—and one of the best in the league—always put it best in August when he said, "If you aren't starting on offense or defense, you better be starting on special teams."
It is still the best advice I would give to any rookie trying to make the club.
I was in the same situation as a rookie in camp with the St. Louis Rams. Nothing more than a backup safety that wouldn't win a starting job over a veteran. But, I found a role on all four special teams (kickoff coverage, kickoff return, punt coverage, punt return). That was my game and the reason I got my foot in the door in the NFL. Mike Martz and his staff kept me around for one reason—to cover kicks.
And, it carries over throughout your career. Make plays in the kicking game and you can last for some time in this league. Think of Josh Cribbs in Cleveland. We tend to focus on his skills as a returner, but this is a player that also covers kicks and just cashed out this offseason because he made a name for himself on special teams.
Running down on kickoff isn't glamorous and half the time the announcers on TV don't even mention your name. But, special teams are the key to getting a job—and keeping a job—in a league that can spit players out at record pace.
And, for most rookies, it is the only way into the NFL.
Ready for fantasy football? Click here for the Total Access Pass/ Draft Guide from the NFP.
Follow me on Twitter: MattBowen41