March 25, 2012 -
Matt Bowen
For Sanchez, its time to produce like a pro in 2012
The Jets are going to get Tim Tebow on the field this upcoming season. We all know that. Unique play calling that caters to his skill set (read option, boot game, sprint, etc.). There are multiple ways to utilize Tebow's talents if you are willing to dedicate part of the game plan to the QB.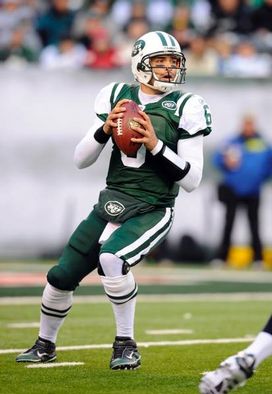 ICONThe pressure is there for Mark Sanchez to produce at a high level in 2012.
After that? No one knows at this point of the offseason. But once the Jets get into camp and open up the regular season, Tebow's minutes will be based solely on Mark Sanchez's production.
I like this angle for the Jets in 2012. Competition is good for any player at any position in this league. And while we can't call this an "open competition" yet in New York, we should all agree that nothing is guaranteed for Sanchez.
His level of play has to rise. Turn on the tape from last season and you can see it. And it has to rise to a point where Tebow isn't an considered an option from the Jets' coaching staff.
I'm curious to find out how Sanchez responds this season. There will be no shortage of talk coming out of New York with Tebow now on the roster. And for all of the discussion this past week about how many games we could expect to see Tebow start under center for the Jets, none of that has to happen if Sanchez handles this situation like a pro.
I've always felt that pro athletes play their best when they aren't comfortable. This would fall under that category for Sanchez. With a new QB on the roster that is a magnet for media attention (and hype), Sanchez will have to play a much more consistent brand of football to keep his job.
A real opportunity here for Sanchez to hold down that No.1 job and answer a lot of questions along the way. Let's see how this play out in 2012 with the Jets.
Follow me on Twitter: @MattBowen41