July 25, 2011 -
Matt Bowen
For the Jets, Holmes should be the No.1 priority
When I think of the Jets and upcoming free agency I focus on the WR position. Yes, New York should do everything they can to get CB Antonio Cromartie back in uniform for the 2011 season, but making Santonio Holmes a top priority is crucial.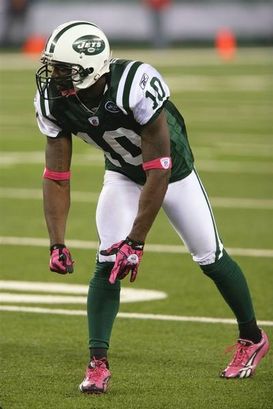 ICONBringing back Santonio Holmes carries value for the Jets offense and QB Mark Sanchez.
Braylon Edwards? He is replaceable from my perspective. The Jets can find another WR that can run the 9 (fade), 8 (post) and 7 (corner). They can even look at making an offer for Randy Moss (if they want to take some risk) to bring in a vertical threat.
However, when I talk about this Jets offense—and QB Mark Sanchez—you can't afford to let Holmes walk.
Start with what the Jets WR can do in New York's playbook. He runs the intermediate route tree (dig, skinny post, curl, Hi-Lo crosser, etc.) and can produce after the catch. That gives Sanchez a real target in crucial situations of the game.
(Click here to see a breakdown on Holmes inside the 10-yard line vs. New England).
Talking with a former teammate last week on Xs and Os, every team has a "gotta have it" play. Usually a short to intermediate route that gives the QB an easy read to step up and make the throw.
That's how I see Holmes in New York. And that provides tremendous value to a young QB that is still continuing to develop. Why take that away?
Look at the Jets, but break it down in tiers. They have the O-Line, the running game with former Hawkeye Shonn Greene, a young TE in Dustin Keller and a QB that I view as a winner.
But you still need a reliable player outside of the numbers.
I'm sure there will be plenty of teams that would make an offer if Holmes does hit the open market (Washington for one), but the Jets can't let it get that far. Let Edwards walk, sign for good money somewhere else and find a player that can duplicate his production in this offense.
But don't think twice when it comes to Holmes. His value goes beyond just numbers and big plays. And if Rex Ryan wants to keep talking Super Bowl (which I still love hearing) then get the WR back in New York as soon as the new league year opens up.
Rex has a very good football team, but you can't start losing key pieces if you want to make another serious playoff run this season.
Follow me on Twitter: MattBowen41