November 10, 2010 -
Matt Bowen
For Welker, ACL rehab continues on the field
Wide receiver Wes Welker has 44 receptions this season for the 6-2 Patriots—good for 355-yards. That translates to an average of just over 8-yards per catch. Numbers that are, well, down from Welker's previous seasons in New England working with QB Tom Brady. Last season, in 13 games, Welker caught 123 passes for 1,348 yards—an average of 11-yards per catch.
Yes, this offense is different in 2010. No Randy Moss, different personnel groupings, etc. However, this is an example of how difficult it is for a pro player to come back the flowing season after ACL surgery—plus rehab—and turn out the same production.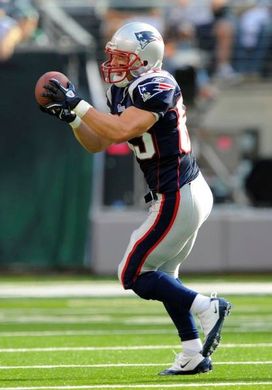 ICONWelker's numbers are down this season after coming back from ACL surgery.
In a good read today by Karen Guregian of the Boston Herald, Welker was open and very honest (which we don't see often when it comes to injuries in this league) about his rehab and the entire process of coming back after a knee injury.
Welker, when talking about his knee said, ""Yeah, it's getting to the point of just trusting my knee and knowing that it's going to be fine. Not that there's doubt, but subconsciously (when you're out there), you think there might be doubt. So for me, it's getting past that and getting that muscle memory back."
We tend to gloss over this aspect when it comes to players. I blew an ACL out during my career, and I know exactly what Welker is talking about in this case. There is that "fear," when you are on the field that the knee won't respond. For me, that meant playing with extra depth in Cover 2, breaking down sooner when making a tackle to avoid any sudden quick movements (which did hurt my production) and the overall idea that I couldn't cut—or move—as fast as I used to.
Welker went on to add, "I don't think you're fully back until a full year, and even then, I think people think you go through an injury like that and you're just supposed to come back the same when, over the offseason, I'm usually training instead of rehabbing. There's a difference. . . . I still feel like I can play at a very high level now, and that's my job every time I step out there."
Again, the rehab process eats up the entire off-season. Instead of focusing on the weight room, functional movements, speed training, etc., you find yourself in the training room—all day. Working on range of motion in the knee, building the muscles around it, and learning how to run all over again. It is a grind, a frustrating period in your career. You slowly come back, find yourself "limited" in the offseason and only get back onto the field with a knee brace that looks—and feels—bulky and uncomfortable. A daily reminder that your knee was destroyed, and you have to build it back up.
It isn't a surprise that Welker's numbers have dipped. It is natural. But, the important aspect here is that the wide receiver is on the field, playing and still producing for a 6-2-football team. Welker is experiencing the daily maintenance that comes with the rehab process (which really takes two full years), and he is out there.
We always judge skill players in this league by numbers, but as a former player who has been in this situation, I judge it by getting through every Sunday and contributing is some aspect to wins.
Follow me on Twitter: MattBowen41