April 16, 2012 -
Matt Bowen
For young talent, the offseason program is crucial
NFL clubs started their offseason programs today. Players will get into the weight room, condition out on the field (or in the indoor facility) and begin the process of building up to OTAs and mini-camp. Its routine for the vets. Come back into town, work with the head strength coach and prep for the season.
However, for young talent (especially second year players), this time of the year is crucial—if it is approached the right way. Here is what I would look for from the young players on the roster as the offseason programs kick off.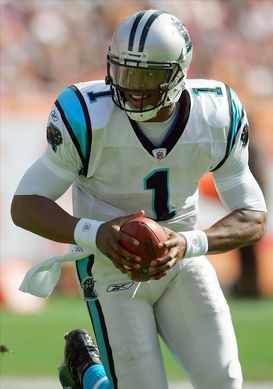 ICONFilm study should be a priority for Newton this offseason.
Technique work: The strength program should focus on functional training in the weight room (Olympic movements, base core strength, kettle bells, MMA training) and out on the field (conditioning, lateral and vertical speed, change of direction). But that doesn't help your technique. Get out on the field and drill your footwork, hands, etc. If you are a DB or a WR, get on the jugs machine. If you are an D-Lineman, work your hands on the sled. QBs should start working with WRs. Have a teammate that is hanging around the locker room after a lift? Grab him and bring him with.
Self-scout (film room): Get in the film room and re-watch every game from last season—and that includes special teams. Take the top rookies from 2011: Cam Newton, Aldon Smith, AJ Green, Andy Dalton, etc. They have to understand that opposing players (and coaches) will study them this offseason, look for faults and opportunities to take advantage of their technique. And if you don't acknowledge and recognize areas of the game you need to improve in, then you aren't getting better. Have the video department make a DVD off all of your mistakes from the 2011 season and study it.
Divisional opponents study (film room): The schedule hasn't been released yet, but that shouldn't stop you from studying your divisional opponents. Start with scheme and then move to the roster. Watch cut ups (3rd and long, red zone, backed up, two-minute, etc) and get a head start on the teams you will see the most in 2012. You should know the offensive and defensive schemes of each of your divisional opponents. That's what pros do.
The Draft is coming: We all know Cam Newton isn't going to replaced. However, if you were a special teams player in 2011 as a rookie, don't be surprised if the team drafts a player at your position. This is how the league works. The coach and GM want to create competition at every position. Understand that a prospect could be coming in soon to take your job—and paycheck. Don't leave right after workouts to make a tee time at the golf course or to play Madden on Xbox. Use the time to improve as a pro football player. You are a pro and get paid to workout. Treat it that way.
Follow me on Twitter: @MattBowen41