March 04, 2012 -
Matt Bowen
Franchise Tag for Forte? Smart play…for now.
On Friday evening, the Bears placed the franchise tag on Matt Forte. A move we should have all seen coming with new GM Phil Emery. Use the tag, lock up the RB and continue talks on a long term deal.
At worst, Forte will get just under $8-million to carry the ball in the 2012 season for Lovie Smith and the Bears. Not a bad deal, right?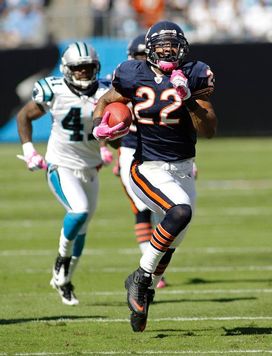 Forte is worth long-term money, but will he see it in Chicago?
However, I also understand the player's perspective here for the RB. He has the numbers and the consistent production that warrants a new deal with up front cash—plus security. And that is something every player in this league wants to be rewarded with based off their play on their field.
But the question I have is simple: is it smart to hand out long-term money at the RB position?
I have no doubts that Forte will be a productive player in Mike Tice's new offensive system this season in Chicago. I expect to see the 2-back power game (Power O, Lead Open, Counter OF, etc.), multiple touches in the passing game and a player that is the focus of the weekly game plan.
Numbers? Forte will put up numbers under Tice.
The problem is the position itself. That's a tough sell to the front office to pay out big money upfront to RBs. We saw those contracts this past summer with DeAngelo Williams in Carolina, Chris Johnson in Tennessee (after his holdout) and eventually to Adrian Peterson during the season before he tore his ACL.
You are investing in a position that takes a beating each and every Sunday. There is some real risk there—no matter the talent. And I do believe we will see this reflected through the draft this April, because it could be a long time until a RB comes off the board after Alabama's Trent Richardson.
I want Forte to cash in. And like I said above, he deserves it after the amount of plays he has made for the Bears' organization.
But if I was Phil Emery, I would let this ride out a little bit. Maybe these contract talks are revisited during the offseason and maybe not. Until then, the Bears have a top five RB under contract. A unique talent at a position that doesn't last long in the NFL.
Want to learn how to study the NFL Draft? Click here to sign up for the NFP's online scouting class.
Follow me on Twitter: @MattBowen41