May 07, 2012 -
Matt Bowen
Fred Jackson should be a role model for rookies
I often times take the player's side when it comes to contracts (if they are making reasonable demands). Get as much as you can if the production is there. And I love to talk about veterans that have put in the work to earn some new money.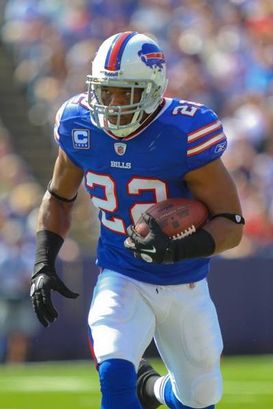 ICONJackson is one of the hardest working players I have ever seen in the NFL.
Fred Jackson is one of those players; and I really hope rookies take notice of his career. Nothing was handed to Jackson, something I saw first hand during my last year in the NFL with the Bills.
The undrafted RB out of Coe College (just up the road from Iowa City in Cedar Rapids) was on the practice squad when I was in Orchard Park during the 2006 season. And for those of you reading this that don't have a firm grasp on what you do as a practice squad player, it isn't glamorous.
Fred Jackson didn't sit down during practice—ever. He would carry the ball as a scout team running back (and play wide receiver). When the whistle blew to end the defensive team period, he put on a different jersey and lined up at CB, safety, DE, LB, etc. to give the first team offense a look as a scout team defender. And it continued during special teams drills. More running, more effort.
Along with Bills safety George Wilson (a practice squad WR back then), I have never seen someone work that hard in practice knowing they weren't going to play on Sundays. That's not easy and it can force a lot of guys on the practice squad to coast through drills.
Jackson has now led the Bills in rushing for the last three seasons and was rewarded with a new contract extension today. This a good story in an offseason filled with bounty talk, suspensions, etc.
So if you are a rookie (or even a young player still trying to make it in the league), use Jackson as a role model. His opportunities were limited compared to the high profile players that come into the NFL every spring. And now he is getting paid.
Nice to see that hard work still sells in the pros.
Follow me on Twitter: @MattBowen41