January 02, 2011 -
Matt Bowen
Game notes: Bears-Packers
Let's check back on the Bears-Packers matchup in Lambeau. Five things that stood out from Green Bay's 10-3 win that punched their ticket to the playoffs.
Click here to read my notes from the early Week 17 kickoffs.
1. Rodgers to Jennings: The play that set up the winning TD pass from Aaron Rodgers to Donald Lee was a classic Cover 2 beater. Run an inside route with a vertical stem at the safety (Donald Driver on the deep dig) and get WR Greg Jennings down the sideline on a basic 9 (fade) route. This is why Chicago's Danieal Manning got beat. Instead of doing what he is coached and playing with enough depth to break over the top of Jennings, Manning drives down on the dig route. Great throw by Rodgers and this defense gives up a big play. A great example of how easy it is to get beat in the NFL—because a top tier QB like Rodgers isn't going to miss a Cover 2 safety coming off of his landmark.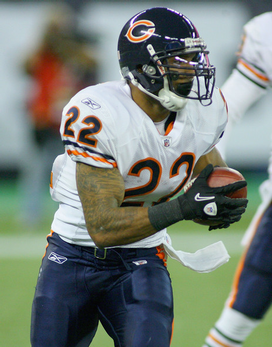 The Bears' Matt Forte had 151-yards of total offense today at Lambeau.
2. Matt Forte's production: Chicago will do a lot with Forte in their base runs along with their misdirection schemes that require a back with good patience and vision. The Bears' RB will finish runs and has shown that he can get up the field once he presses the edge of the defense. However, one of the keys is his ability to catch the ball out of the backfield in routes that are designed by Mike Martz to get him the football. Forte racks up 91-yards rushing and catches 8 passes for 60-yards. His production will be crucial in the divisional round of the playoffs.
3. Playoff defenses: I like both of these units in Green Bay and Chicago—because they are very good at what they do. The Bears are a fast Cover 2 team that will play some Cover 1 and use zone pressure. But, they can get to the QB with their front four and play coverage. For the Packers, you will see multiple looks and pressure packages—and they have the secondary (the best overall unit in the playoffs) that can play blitz-man technique. I have played in both schemes in my career and I can tell you that they both work—it just comes down to execution. And both these squads look playoff ready from a defensive standpoint.
4. Cutler's INT—quick X's and O's: The pick in the end zone. Let's break it down because it took points off of the board for the Bears. Chicago runs a flat-7 (or flat-flag) combo vs. the Packers' Cover 2 look. The CB, Sam Shields, does a great job of sinking and providing the safety, Charlie Peprah, with enough cushion to break on the throw. And that is why it looks like an easy pick for Peprah, because he gets that extra help from the corner—which is often overlooked. The flat-7 combo is a classic Cover 2 beater, but in the red zone it can be eliminated when the corner sinks hard at a 45-degree angle (and reacts back to the flat) to take away the deep hole in Cover 2. Big play in this game.
5. The Packers' running game: This is an issue. I don't know how else to say it. Because when you can't line up in 3rd and short situations—plus inside of the five-yard line—and produce on the ground, your playbook starts to shrink. And, it also forces you to get too creative. Case in point, the fake QB sneak and lateral pass to Brandon Jackson in the 3rd quarter. Instead, bring your Tank (1 WR, 2 TE, 2 RB) or Jumbo (3 TE, 2 RB) personnel on the field and run the Power O, Lead Strong and Lead Open. Something to think about, because Rodgers can't make a Super Bowl run without some help from the running game.
Check back to the NFP tomorrow morning—it is time to talk playoff football in the NFL.
Follow me on Twitter: MattBowen41