December 12, 2010 -
Matt Bowen
Game notes: early kickoffs
Some quick reaction from the early Week 14 Sunday kickoffs. Five things that stood out from my perspective…
1. Maurice Jones-Drew: I was impressed with MJD today because he had to grind this game out. 23 carriers for 101-yards that included the game winning 30-yard score in the 38-31 win over the Raiders. Ran hard, was explosive at the point of contact and took hits all game. Yes, Rashad Jennings had a big day (5-109-1 TD), but I still go back to MJD because he carries this game plan for a very physical football team that is now sitting at 8-5.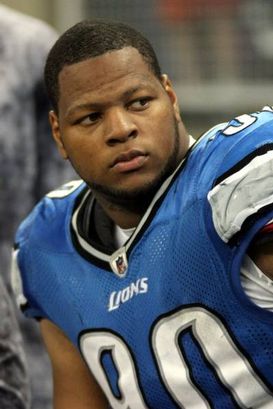 ICONSuh and the Lions' defensive front handled the Packers today in the 7-3 win.
2. The Detroit D-Line: We will get into more X's and O's tomorrow morning when it comes to the Lions' win, but it is easy to see the immediate impact this Detroit defensive line had on this game. They get up field quickly and pursue to the football in the run game, plus they can collapse the pocket in 3rd down situations. Yes, losing Aaron Rodgers to a concussion was a blow to Green Bay, but even with Matt Flynn in the game there weren't many options from a ply calling perspective for Mike McCarthy. That was a bad loss—and the fact that the Packers were whipped up front will stand out on tape.
3. Steelers' playmaking defense: This is what you want from your defense in December. Numbers and stats are nice, but turnovers sell in the last quarter of the season. The Steelers return two INTs for scores with Troy Polamalu once again making a big play vs. Carson Palmer by breaking in front of an inside seam route. For the Bengals, same old story when we talk about mistakes. They just can't compete for four quarters.
4. Falcons' keep rolling: Nothing surprising down in Carolina, because the Falcons run their game plan and walk away with another victory to move to 11-2. What should stand out is the Falcons' ability to convert inside of the 10-yard line. RB Michael Turner scores three TDs on runs of 1, 2 and 4 yards. That is big, because it is not easy to drop back and throw when the field shrinks and defenses sit in zone coverage to take away throwing lanes. The good teams—the playoff teams—bring their Jumbo personnel onto the field and run the ball in the end zone.
5. Darren McFadden: The biggest difference that I see in the Raiders' RB this season is his ability to break tackles. Add that to his quick cut back vision—and vertical speed—and we should be watching a player that is racking up production on Sundays. McFadden played huge in the Raiders' loss. Final numbers: 202 total yards and 3 TDs. The guy is playing a top-tier level for Tom Cable.
Check back to the NFP for my quick game notes after the late kickoffs.
Follow me on Twitter: MattBowen41