December 07, 2010 -
Matt Bowen
Game notes: Jets-Patriots
Let's check out some quick game notes from the Patriots 45-3 win over the Jets in Foxborough to take over first place in the AFC East. Five things that stood out from my perspective.
1. Brady Rolls: What stands out when we break this game down is how he targeted the middle of the field. If the Jets rushed three, he would hit the intermediate dig route or the underneath crosser. When he saw pressure, Brady checked to the one-back runs in this Patriots offense or used the quick three-step patterns to get the ball to WR Wes Welker, plus TEs Rob Gronkowski and Aaron Hernandez in favorable mathcups. Extended plays by sliding in the pocket, and worked over this Jets defensive scheme like no other QB we have seen all season. Final numbers for Brady: 21-29 for 326-yards and 4 TDs. The type of game that locks up MVP awards because he played like a leader.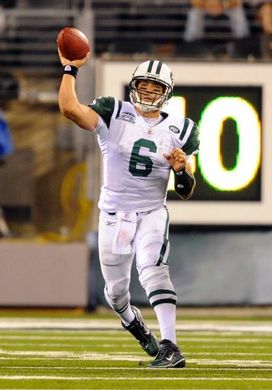 ICONSanchez threw three INTs in the 45-3 loss to the Patriots on Monday night.
2. Sanchez: Didn't show up on a big stage and threw 3 INTs on the night. Looked rushed, was impatient early in the game and couldn't find any sense of rhythm when he followed through on his throws. Missed on easy plays, and when the Jets did get some momentum on the long drive in the 2nd half, he forced a skinny post off of play action in the red zone vs. the Pats' Cover 2. You have to account for the underneath players inside of the red zone who don't take a deep drop because of field position. Let's not bury Sanchez after one game, but that performance is enough for us to ask questions about what he can do over the next three weeks and into the post season.
3. The Jets' secondary: Didn't you notice a difference without safety Jim Leonhard? At times they didn't look aligned properly and when you face a team like the Pats—who use multiple personnel groupings on back-to-back plays—you have to be on top of your assignments. They challenge you mentally on each series—and that is a big part of their offense. I didn't see that aggressive defense with DBs challenging receivers and jumping routes. They played on their heels, and that doesn't fly when you use a game plan that is heavy in pressure schemes. Plenty to learn from when this Jets' secondary sits down and watches this tape. It will be rough, but there will be corrections to be made.
4. More Woodhead: I have talked about the Patriots' RB before, and I think we should discuss him again tonight—because you can see what he adds to this football team. Special teams, running the ball out of the gun and catching the ball in a variety of route schemes on offense. Go back to his 37-yard reception. The Jets use a zone blitz and drop the Nose into the hole. Woodhead gets out of the protection scheme (which the Jets aren't counting on) and catches the ball with open space to work with. For New York, that defense looks outstanding during the week on the chalkboard, but when you get a player with speed and lateral ability like Woodhead in the open field, it turns into a big play. He is fun to watch.
5. The Jets' game plan: This can lead back to Sanchez, but the Jets' aren't built to start pressing on offense and throwing the ball. They need to establish the ground game, work the clock and set up their route schemes. The problem? Can't do that when you fall behind on the scoreboard that quickly in a game. Play calling changes as does personnel. More three WR sets and less of a focus on the basic run schemes that are a vital part to this offensive scheme. Tough night for Rex and the Jets.
Follow me on Twitter: MattBowen41