November 28, 2010 -
Matt Bowen
Game notes: late kickoffs
Let's check out some quick game notes from the late Week 12 kickoffs. Five things that stood out from my perspective.
Click here to read my notes from the early kickoffs.
1. Jay Cutler: There are other angles in this Eagles-Bears game to discuss, but Cutler needs to be at the top of the list. This is the best he has played under Mike Martz. Ran the boot game, the 3-step routes, the WR sceen, the deep crossers and was able to keep his eyes down the field and get the ball into the hands of his playmakers. This offense has been stagnant this season in terms of big plays, but they found ways to exploit a very good Eagles defense. Cutler throws 4 TDs as the Bears move to first place in the North with an 8-3 record.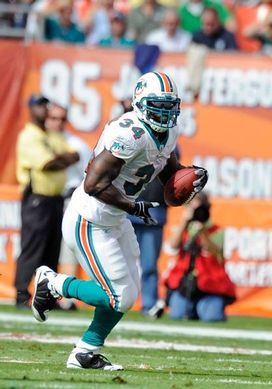 IconRicky Williams and Ronnie Brown combined for 48 carries today.
2. Dolphins' run game: This is the offensive game plan the Dolphins needed last Thursday night in the loss to Chicago. Even with QB Chad Henne back in the lineup, Tony Sparano's team ran their offense through RBs Ronnie Brown and Ricky Williams. Both backs combine for 180-yards—on 48 carries. No reason for Miami to change this script over the next five weeks after outplaying the Raiders up front. They should hang around for a while playing football like this.
3. More Bradford: It seems like I am writing this on a weekly basis with the rookie QB in St. Louis. Throws for his first 300-yard day as a pro--without a turnover-- in the road win at Denver. Beyond the numbers, I keep going back to how impressed I am a rookie QB that can read pro defensive concepts and take care of the football. Even with a 5-6 record, the Rams are still a contender in the NFC West—and it all leads back to Bradford.
4. The Ravens: Are we selling John Harbaugh and the Ravens short these days? Didn't stand out from an offensive perspective in the second half and held on to beat a good Tamp club 17-10. I still see the Ravens as a legit top ten team in the league and a squad that can make a run in January. It doesn't have to look good when you win after Thanksgiving in the NFL, and I am not ready to look past Ray Lewis, Ed Reed and that defense any time soon. They can still take away any quarterback's ability to dictate the flow of the game.
5. Don't forget about the Chiefs: That is an important win for Todd Haley's club. I have said before that playing out in Seattle is dicey—at any point of the season. K.C. goes out west and rolls up over 500-yards of total offense. Matt Cassel throws 4 TDs and Dwayne Bowe ends with a ridiculous stat line: 13 receptions for 170-yards and 3 TDs. Have to get these wins with San Diego playing good football and traveling to Indy tonight.
Check back to the NFP tomorrow morning for my Week 12 winners and losers.
Follow me on Twitter: MattBowen41