January 09, 2011 -
Matt Bowen
Game notes: Packers-Eagles
Let's talk Packers-Eagles. Five things that stood out from Green Bay's 21-16 win over Philadelphia in the NFC Wild Card.
Click here to read my Saints-Seahawks game notes
Click here to read my Jets-Colts game notes
Click here to read my Ravens-Chiefs game notes
1. McCarthy's game plan: In my opinion, his best game plan of the season. Green Bay got back to balanced football and we saw some examples of a team that could line up in their Tank personnel (1 WR, 2 TE, 2 RB) and play physical at the line of scrimmage. This allows the Packers to take some stress off of QB Aaron Rodgers (3 TD passes), use their play action route schemes and put together long, time consuming drives that wear down defenses. The running game was the big concern I had for Green Bay heading into the playoffs, but with a game plan like this they can beat anyone in the NFC.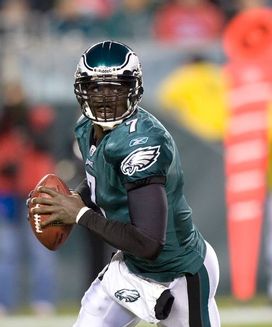 ICONVick's 4th quarter INT gave the Packers the Wild Card win out in Philadelphia.
2. Vick's 4th quarter INT: If you are going to challenge the Packers' Tramon Williams, then you better make a great throw—and that didn't happen. Williams played with inside leverage at the snap and went up to high point the football. That's how you are coached as a DB. What we saw was an example of Williams staying "in phase" (on the WRs hip) and making a big play. However, go back to the throw in that situation. Did Vick need to challenge the end zone and why turn a crucial 2-minute drive into a jump ball situation? Something for Philly to think about after they challenged a CB who played with good technique and attacked the football.
3. James Starks' production: A running back with vision and the ability to cut back. This is exactly what Green Bay needed. Let's not say that Starks has arrived—yet—but his production today (23 carries for 123-yards) played right into McCarthy's game plan. He has a quick first step and was able to get to the second level of the Eagles' defense because he didn't hesitate or dance in the backfield. Get the ball, find a running lane and go produce. That sells in the playoffs—and the Packers now have a RB they can lean on.
4. Packers' defense: This was a solid game plan from Dom Capers. Use Charles Woodson as a spy (or what I like to call a "rover') on Michael Vick, give a variety of pre-snap looks and challenge the QB to beat you. I like the idea of pressuring Vick—which forces him to make throws vs. blitz looks—and mixing in your coverage schemes as well. However, the big thing is the preparation it takes throughout the week to prepare for this Packers' defense. Those pre-snap looks are designed to cause confusion in protection schemes. And just like we saw today, Green Bay will get some free runners to the QB when the O-Line doesn't slide their protection or can't handle the amount of pressure that comes from all angles. If you like defensive football, the Packers are a great team to study.
5. DeSean Jackson's injury: Impacted the Eagles' game plan. That's the best way to say it. When you lose that vertical speed from Jackson, it takes away a crucial element to your play calling. Philly wants to run inside breaking routes that test the defender's leverage, but a big part of their offense is challenging the secondary down the field. We didn't see that today. And even when Jackson came back to the lineup, he didn't show us that ability to separate vertically once the ball was is in the air. That hurt Vick and this Eagles' offense.
Follow me on Twitter: MattBowen41