December 23, 2010 -
Matt Bowen
Game notes: Panthers-Steelers
Let's talk Panthers-Steelers. Five things that stood out from Pittsburgh's 27-3 win over Carolina tonight at Heinz Field.
1. Roethlisberger: Played like a veteran quarterback who was in control of the game plan. Go back to the one-step slant he threw to WR Mike Wallace (4-104-1 TD) that went for a 43-yard TD. The Steelers' QB reads pressure at the line of scrimmage and throws the hot read inside of the numbers. On top of that, Roethlisberger took advantage of the Panthers' Cover 2 and Cover 3 schemes, threw the inside breaking routes and used multiple receivers. This is what you want to see from your QB when he works against a secondary he can take advantage of. Roethlisberger throws for 320-yards and a TD in the win.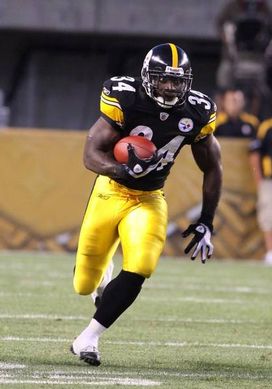 ICONPittsburgh's Rashard Mendenhall.
2. Rashard Mendenhall: I like what Mendenhall can do in this offense and I do see him as one of the more underrated backs in the league. However, what stands out from tonight is his ability in the open field. Make that first defender miss, get to the second level of the defense and show that straight-line speed. A back that can run inside of the tackles and press the edge of the defense.
3. Clausen struggles: The Panthers' QB looked like a rookie. I saw a young player who didn't have confidence in his coverage reads, looked uncomfortable in the pocket vs. pressure and outside of fade route down the sidelines (that turned into an INT), didn't challenge the Steelers' secondary. Clausen needed to take command of this offense, put together scoring drives and made plays in crucial situations. We didn't get that from Clausen. Expect that Andrew Luck talk to be at full volume tomorrow after the QB goes 10-23 for 72-yards and an INT.
4. Heath Miller's impact: Watching this game, you can tell how important the Steelers' TE is to this offense. Let's talk about the routes he can run. The quick seam route, the 7 (flag), the out, the TE screen; plus he can make plays in the boot game. However, I still see his greatest impact in this offensive system inside of the numbers—where he can work the middle of the field. That is an easy throw for Roethlisberger and it gets Miller matched up on a safety or a linebacker—and that is what Pittsburgh wants. Catches five passes for 73-yards.
5. Carolina's issues: There is a reason the Panthers will wake up tomorrow with a 2-13 record. On offense, they couldn't put drives together and on defense they didn't tackle well. I'm not talking about big plays here—instead playing a solid brand of NFL football that allows you to compete with a playoff level team like the Steelers. The simple things, such as pass protection and getting off of blocks. Bottom line: I didn't see a team that played with solid technique tonight. Plenty of change coming this offseason in Carolina.
Follow me on Twitter: MattBowen41