October 05, 2010 -
Matt Bowen
Game notes: Pats-Dolphins
Let's take a look at some notes from the Patriots 41-14 win over the Dolphins on Monday night.
Game notes…
Miami's special teams: Bad football. Give up the TD to Brandon Tate on the opening kickoff to start the second half. Basic counter scheme when the returner will press the middle of the field, draw the contain and then cut to the outside—something we see all around the league. Patrick Chung's blocked punt leads to points and the blocked field goal (again by Chung) is scooped up and returned for a TD. That is 21 points—given to New England. That special teams meeting Wednesday morning in Miami is going to be rough.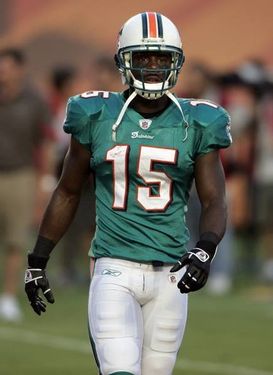 ICONBess had 9 receptions for 93-yards and a TD.
Davone Bess: The Dolphins' WR is great when he can work inside of the numbers, but we also saw him align as the "X" receiver and run the entire underneath route tree (china, out, underneath crosser, option). A one-cut runner who doesn't hesitate coming out of breaks and when he does catch the ball, can run with some power in the open field. Looks like Ravens' WR Anquan Boildin after the catch. 9 receptions for 93-yards and a TD.
The Patriots' game plan: No Randy Moss and no deep ball. The Pats' used their Ace (2 WR, 2 TE, 1 RB) and Posse personnel (3 WR, 1 TE, 1 RB) to run short to intermediate route combinations, get the ball to RBs BenJarvus Green-Ellis and Danny Woodhead and put long, sustained drives together. This is why the Patriots' are so tough to prepare for—multiple ways to move the ball. Brady throws for 153-yards on 19-24 passing and the Pats' rush for 121 yards on 31 carries.
Henne's night: The two first half INTs are drive killers. No other way to say that. Henne was intercepted twice by Pats' LB Rob Ninkovich as an underneath curl to flat defender. Henne has to see the field and know what coverage he is working against. Curl-flat defenders will carry any seam route when they aren't threatened to the flat and won't come off of their landmarks in zone coverage. Can't have that from the QB against a divisional opponent on Monday night.
X's and O's…
The crack toss: Versus any bunch look tight to the line of scrimmage, you have to expect the crack toss from a defensive perspective. Down blocks by the WRs in the bunch with the play side guard and tackle pulling down the line. It forces the inside defensive pursuit to overrun the ball carrier and open up cutback lanes. No defensive player wants to see that play with Ricky Williams in the backfield.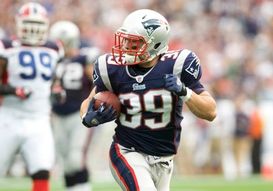 ICONThe Patriots' Danny Woodhead.
Woodhead's TD: Great call in the red zone from the Patriots. Bring Posse personnel onto the field and use a four wide receiver look with TE Aaron Hernandez aligned as a slot receiver. With the Dolphins playing Cover 7 in the red zone (combination man coverage), Woodhead gets a two-way go on Karlos Dansby in the middle of the field. A one-on-one matchup that a RB should win every time with a simple option route.
Miami's pre-snap motion: We got to see WR Brandon Marshall align in the backfield and use pre-snap motion. Saw this even in my career. It is designed to get CBs to run, show their coverage and prevent them from getting their hands on Marshall at the line of scrimmage. Even on the "shoot" screen that went to Ricky Williams for a TD, Marshall motioned out of the backfield. Nothing more than some nice window dressing.
Extra points…
- How about a game ball for Patriots' safety Patrick Chung? Two blocked kicks and an interception return for a TD. Not bad for a Monday night—when everyone is watching.
- The wildcat is becoming noting more than a gadget play in Miami. Might as well take it out of the game plan and line up in two backs and run downhill.
- Dolphins' CB Vonte Davis always stands out from my perspective because he can come out of the secondary and tackle. We don't talk about it enough at the CB position.
- Miami was outscored 35-7 in the second half. It doesn't get any worse than that.
Follow me on Twitter: MattBowen41
Want to work in the NFL? Click here to register for the NFP's "Chalk Talk" seminar in Chicago on October 22nd.