September 09, 2011 -
Matt Bowen
Game notes: Saints-Packers
This was a crazy football game. That's the best way I can say it. A ton of offense from Rodgers and Brees, some really poor technique on the defensive side of the ball and plenty of big plays.
Let's get into my notes and break it down…
The final play: Poor execution from New Orleans here on the final play to get in the end zone. What did the Saints do? Bring Tank personnel (1 WR, 2 TE, 2 RB) onto the field and run the Power O (Guard Pull, FB kick out). It is the first play you install in camp. Did I like the call? Yes, because this is a basic scheme you must be able to run inside of the 5-yard line and produce points. The issue (and something we saw all night) was the Packers D-Line winning up front. Rookie RB Mark Ingram didn't stand a chance on this play—because the Packers penetrated the line of scrimmage. Big time effort from Dom Capers' defense on a play they needed to close out the game.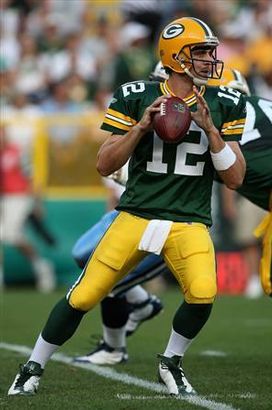 Both Rodgers and Brees put on show when it comes to QB play at the NFL level.
Rodgers and Brees: A coupe of reasons why both of these QBs will continue to put up numbers throughout this season…
-Eyes are always down the field. When they step up, or slide to avoid pressure, their eye level doesn't drop and you never see panic. Confidence for sure, but they always have focus in the pocket.
- Ball placement. We can talk about this all day long with these guys and this game was just another example. The back shoulder fade, the deep dig, the slant, etc. Put the ball where the WR can make a play. The key here from a defensive perspective? Doesn't matter if you are playing solid technique and have good coverage—because both QBs can still beat you.
-Mechanics. Look at footwork, throwing motion and overall technique. Polished and professional. These are two QBs you put on coaching tape.
Just check out the numbers…
Rodgers: 27-35-312-3 TDs
Brees: 32-49- 419-3 TDs
The Saints defensive scheme: Like I have said before, I played in this same system under Williams back with the Redskins. You can generate pressure and will hit the QB, but you won't get production without solid secondary play. We didn't see that tonight. I thought Jabari Greer competed all game long, but Patrick Robinson was a target. And in this scheme, there must be big plays from the safeties. Again, something we didn't see. Williams had to shift to the Cover 2 looks, because he couldn't risk getting beat down the field routinely all night long. Try sitting in that defensive meeting room on Friday when Williams turns on the tape.
Randall Cobb: I talked about Cobb during camp and tonight we saw exactly where his impact is going to come from: inside of the numbers on offense and in the return game. Took a basic slant route (working vs. a man-under scheme) for a long TD and put together a highlight reel on his 108-yard kickoff return for a score. The rookie from Kentucky will be a situational weapon for the Packers this season. And he has talent that can't be coached.
The Packers up front: Won on both sides of the ball and controlled the interior of the offensive and defensive lines. That's where you win in the NFL. We saw it on the final play that we discussed above and especially when the Packers ran the football. Create running lanes; win at the point of attack and then work to the second level of the defense (linebackers). Green Bay fans should love seeing this.
Sproles is legit: Did give up a crucial sack late in the game, but the overall skill set that he brings to the Saints on offense and special teams is obvious. You won't find a linebacker that can check him in coverage on a option route and his acceleration after he gets the football will stand out on tape across the league.
More quick hitters…
-3rd down defense was atrocious for both clubs and that must be corrected. Really poor football there.
- When the Packers use their Posse personnel (3 WR, 1 TE, 1 RB) and align TE Jermichael Finley as the backside X receiver (split end), it gives them speed in Jennings, Nelson and Driver to the closed (strong) side of the formation. That's tough to game plan.
- DB technique. Go back to the Devery Henderson TD vs. Sam Shields. The Packers' CB stopped his feet when he went for the jam. Small thing we are talking about—but in this league it gets you beat.
- The Saints have to generate a pass rush when they play coverage. I do think playing some 2 deep vs. Green Bay is a good call, but there has to be edge pressure from a four-man rush to use this as a lead coverage.
- Is it just me, or does James Starks look like the No.1 back for Green Bay?
- The punch from Woodson? Didn't expect to see that. I know firsthand things can get a little nasty down on the field, but the Packers' CB is too good of a pro for that.
Follow me on Twitter: MattBowen41