August 28, 2011 -
Matt Bowen
Game plan vs. Titans the right fit for Cutler, Forte
Watching the Bears-Titans last night, this is the game plan Chicago fans should want to see from Mike Martz this season. There is balance to it. Give QB Jay Cutler manageable game situations and lead with RB Matt Forte. And as I talked about on Thursday, these game plans are scripted for the first time in the preseason.
Here is what I saw from the Bears first-team offense down in Nashville…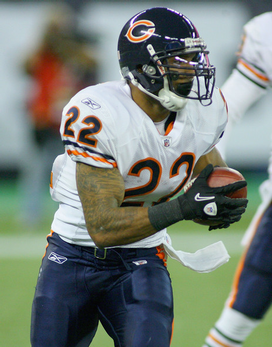 Forte's value increases when the Bears have balance to their offensive game plan.
- The Bears won up front in the run game. When you take a step back and look at their scheme, this is ideal for Forte (17-74-1TD). Chicago will run the basic Lead Open, Lead Strong, but they want to move their O-Line. Pull the guards and lead with the Power O, Counter OF, inside trap in the red zone, etc. That sets up for Forte (a back that is patient with the ball) to hit the hole or bounce outside. The Bears RB played with a burst in Tennessee.
- Third down conversions. Preseason or not, you have to make the plays in crucial game situations. On the Bears first scoring drive, Cutler was 3-for-3 on third downs and made the throws to move the sticks. A good sign? No question, because that leads to points.
- Short to intermediate passing game. Everyone wants to see Cutler (13-21-170-1TD) sling the ball down the field, but what we saw last night was the dig, comeback, slant, spot, underneath crosser, etc. These aren't route schemes designed to test the top of the defense. But they do allow you to move the sticks. And the one WR that will make plays in this type of game plan: Earl Bennett (6-89). Can run the entire route tree, but will always show up inside of the numbers.
- Roy Williams (2-33) was a part of the game plan. Made the opening catch of the night on the comeback off the boot action from Cutler. However, the one route he has to make a living on in this offense is the deep dig (square-in). Was targeted twice on the dig (with one resulting in an INT). Roy looked better, but from my perspective, he's still not where he needs to be as a No.1 WR in this offense.
I'm sure we will see more 7-step drops and multiple breaking routes (think double-moves) from Martz's offense in the regular season opener vs. the Falcons. But if the third preseason game taught us anything, this offense can drive the ball when they use a game plan that leads with the run and the intermediate passing game.
Just a heads up...If you are looking for some High School football check out my Alama mater, Glenbard West, playing rival Wheaton Warrenville South at 12 EST on ESPN2.
Follow me on Twitter: MattBowen41