January 31, 2011 -
Matt Bowen
Game planning Big Ben
Let's talk some X's and O's of Super Bowl XLV and focus on Ben Roethlisberger from the perspective of the Green Bay defense. The Steelers' QB causes matchup issues because of his unique ability to extend the play, step up in the pocket and break contain. Today, let's play defensive coordinator and discuss five things that can limit Roethlisberger this Sunday.
1. Bring inside pressure: We should see some edge pressure from the Packers on Sunday, but my main goal would be to send A and B gap pressure vs. Roethlisberger. Rush with contain principles on the outside, however force the Steelers' QB to step up into the face of pressure. This cuts off his ability to slide in the pocket, set his feet and wait for routes to develop down the field. Add in the fact that center Maurkice Pouncey is likely out, and there is no question that I would challenge the interior of the Pittsburgh O-Line early.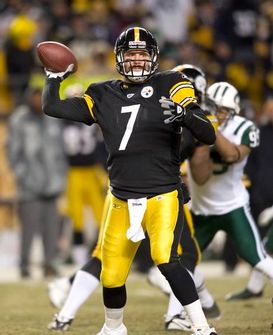 ICONSteelers' QB Ben Roethlisberger.
2. Play combination man coverages: What do you do vs. a very aggressive secondary that can play man coverage? Run routes out of the bunch and stack looks that give your receivers a quick, free release at the line of scrimmage. To eliminate that, play what I call Cover 7 (man coverage with combination schemes). The "box" (4 on 3), "triangle" (3 on 2) and "slice" calls (2 on 1). Give yourself an advantage as a DB. Eliminate "pick" routes and simple route schemes that are designed to beat both press and off-man coverage. Green Bay doesn't want to get caught chasing an underneath crossing route out of a stack look that gives Roethlisberger a short, easy read.
3. Take away inside breaking routes: Think of 3rd downs. What are we going to see? Most likely, inside breaking routes that are thrown between the numbers: slant, option, dig, seam, curl, stick, etc. If I am the Packers, I also expect the ball to go to either TE Heath Miller or WR Hines Ward. Because of that, move Woodson around, align him in different looks and allow him to challenge both Miller and Ward. Don't work hard to get to 3rd down only to see Ward run a basic 5-yard option route and run away from the defender's leverage for an easy conversion. Instead, force Roethlisberger to throw the ball outside of the numbers and challenge the secondary.
4. Play Cover 2 over 2-Man: The Packers gave up some plays to the Bears and QB Caleb Hanie playing 2-Man in the NFC Championship game. 2-Man is just as it sounds: 2 deep safeties with the underneath defenders playing inside (trail) man coverage. Force an outside release and use your safeties as protection. The issue vs. Roethlisberger, however, is playing that man technique when he extends the play. That is tough on any DB to sit hard and to the inside when the QB can get out of the pocket. Receivers break off routes, come back to the football and turn the play into playground football. Yes, keep 2-Man in the game plan, but lean on basic Cover 2. This allows you to drop seven into coverage with the ability to see the QB. That can save you from giving up a big play vs. Roethlisberger.
5. Tackle: Sounds elementary, right? Of course it does, but it always applies vs. the Steelers' QB. How often have we seen free runners or blitz pressure (that gets home) come up with zero against Pittsburgh? Game planning coverages and pressure schemes for Roethlisberger play a big role, but you have to get the QB on the ground to be successful. When rushing a QB that is strong in the pocket, rake down the throwing arm—because we have all watched Roethlisberger deliver the ball with defenders hanging all over him in the pocket. And that makes him one of the toughest matchups in the NFL.
Follow me on Twitter: MattBowen41
Want to work in the NFL? Click here to sign up for the NFP's "Chalk Talk" seminar in Indianapolis at the Combine on February 25th.