April 12, 2011 -
Matt Bowen
Game planning Gabbert
QB Blaine Gabbert is projected as a top ten prospect and his name has been connected with Carolina, Buffalo, Cincinnati and Arizona throughout the draft process. Size in the pocket, athletic ability and what we all consider an NFL arm to throw the deep out, comeback, 9 (fade) route, etc.
However, let's do something different today. I want to look at Gabbert from a coaching perspective on the defensive side of the ball. After watching college game tape, plus talking with both players and coaches that competed against the former Mizzou QB, I do see multiple ways to attack him. Here are four options to add to your game plan vs. Gabbert.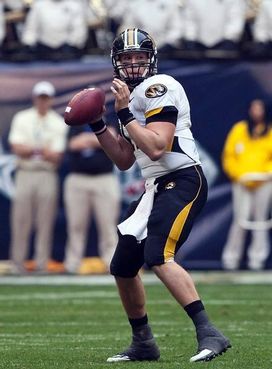 ICONStart with inside pressure when you draw up a game plan vs. Gabbert.
1. A, B gap pressure: Think of the gaps in the interior of the offensive line. That is where you want to attack Gabbert initially. Why? Because he has shown that he will retreat vs. inside pressure in the pocket. The former Mizzou QB doesn't want to step up into pressure and by forcing him to give ground, you take away the initial break from the WR. Bottom line here: test his pocket presence.
2. Play 2-Man on 3rd downs: Gabbert has the ability to eat up Cover 2. Find holes in the zone and use his arm strength to throw the basic Cover 2 beaters. The deep 15- yard dig, the TE on the deep seam route matched up vs. the Mike Backer, or the flat-7 (corner route) combo. But, when you play 2-Man (sub package defense), you get underneath defenders that align in a trail-man technique (inside leverage, play the bottom hip of the WR) that will eliminate inside breaking routes. With two deep safeties playing over the top, you now force Gabbert to make a solid throw away from the defenders leverage and in front of the safeties.
3. D-Line stunts: Start with the "TEX" stunt (DE and DT). What you create here—again—is the ability to generate an inside rush with your four-man front, but now you can play coverage in the backend. With the DTs on a long scoop to the rush with contain principals, you can force Gabbert into the DEs penetrating with a hard inside crash at the snap. He is a solid athlete, and although he will drop his eye level when he breaks contain, Gabbert can make all of the necessary throws on the run. Keep him in the pocket and once again test him with pressure at his feet.
4. Closed side zone pressure: Bring pressure to the closed (or strong) side and let Gabbert see it from his pre-snap read. What you want to find out early in the game is if he will check out of a five or seven step route combination into a 3-step scheme (slant, hitch, fade, smash, etc.). Why? Because Gabbert has shown that he will lock his eyes on to pressure—and that takes him off routes that break vertically down the field. You have a SS and Sam fire zone called (or an exotic look like we see down in New Orleans with the Saints), show it when you break the huddle. I want to see if he can still make the throw to his primary reads when he knows pressure is coming. And if he doesn't respond, I will continue to blitz.
Will this work? From what I have seen on tape, and with my background on the defensive side of the ball, I make sure that these four keys are at the top of my game plan vs. Gabbert.
Follow me on Twitter: MattBowen41