November 10, 2010 -
Matt Bowen
Garrett already making changes in Dallas?
We had to see this coming in Dallas with Jason Garrett taking over the 1-7 Cowboys, because today was his first chance to grab the attention of that underachieving roster.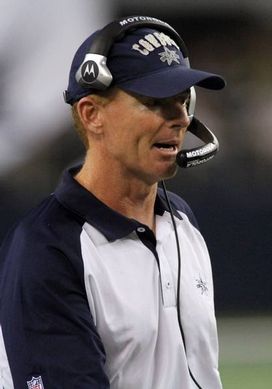 ICONGarret's first sign of change: full pads for the Cowboys today in practice.
According to reports, the new coach held his first practice—and put his players in full pads. Something different from the now departed Wade Phillips, and an obvious attempt to signal change.
Full gear in November? The easiest way to grab the attention of the locker room. From a former player's perspective, no one wants to put on full pads during the final two months of the season. You look up at the grease board right outside of the equipment room and see the words "full pads," your attitude changes. You are not going to coast through practice today, "tag" off on ball carriers or jog through run-fits at an easy pace. Full pads means time to hit, usually an extended 9-on-7 period (inside run drill) and a full speed practice. I had no problem with it as a player—when that was the routine from the head coach. But I would bet that some of those Cowboys' players had a hard time putting those thigh boards in their practice pants.
I wrote about Garrett on Tuesday here at the NFP. He is going to have a hard time selling this Cowboys' roster on his own coaching philosophy. Tough to do in the middle of the season with a group of players that are accustomed to the laid back routine of Phillips. Garrett doesn't have the luxury of starting in March, the offseason program, OTAs, mini camp, etc. He has to do it today.
And full pads for practice in November is his first attempt at changing the way the Cowboys practice and play. Does it work? We will find out starting Sunday…
Follow me on Twitter: MattBowen41