July 29, 2010 -
Matt Bowen
Gates' deal shows true value of the TE position
On Wednesday night, the San Diego Chargers made Antonio Gates the highest paid tight end in the entire league. A five-year extension worth a reported $36.175 million—with over $20 million in guarantees.
A step price for a tight end? Not really—especially when you look at the passing league that has become today's NFL.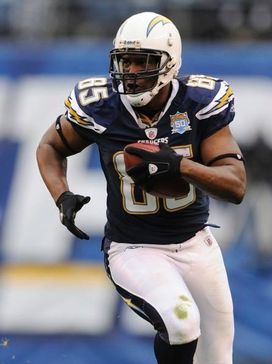 ICONGates is now the highest paid tight end in the NFL.
Previously, I wrote a post on the evolution of the tight end position in this league. Once considered an extra lineman of sorts, TEs are now viewed as offensive weapons. And, defensive coordinators are being forced to come up with new techniques and new coverage schemes because of it. No longer can you just drop a SS down into the front and play Cover 1. Those days are gone. You now need safety help over the top, combination coverages (think 2 on 1) and speed.
Because these tight ends can run.
Gates is a prime example of where money will now be spent. When I first came into the league in 2000, tight ends and fullbacks were the low guys on the ladder when it came to pay grade. Offenses invested their money outside of the numbers at the WR position. Those were the guys with the big paychecks every other Tuesday throughout the season.
But, the game itself has changed. The tight end position can now be included in the mix when we talk about "skill players." Speed, power and the ability to catch the ball down the field. And future money will be spent there, because you can see the value on game days.
How often did we see a TE aligned out of position in the 2009 season? It will continue, and in fact, it will increase. Because offensive coaches know that they can get those matchups they so desperately want anywhere on the field. Look at Indy with Dallas Clark or Vernon Davis in San Fran. Valuable to the way their respective offenses move the ball and score points? Of course, and we know the list of names—big names—can drag on, because this position is now so crucial to play calling in the NFL. They allow that creativity, that innovation on the chalkboard in meeting rooms.
For the Chargers, the big money is going to Gates. Forget the Vincent Jackson or Marcus McNeill demands right now. Those guys can wait. Because San Diego GM A.J. Smith sees the future of this team and the overall value of a tight end that can change the game.
Smart play.
Ready for fantasy football? Click here to purchase the Total Access Pass/ Draft Guide from the NFP.
Follow me on Twitter: MattBowen41