December 18, 2011 -
Matt Bowen
Goodbye, 16-0
Give credit to Romeo Crennel, Kyle Orton and the Chiefs' defense for pulling off the 19-14 upset today in K.C. that hands the Packers their first loss of the season. It is type of win that secures a job for an interim head coach playing out the schedule.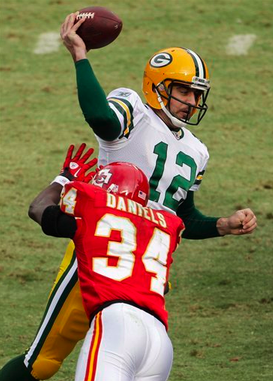 Rodgers and the Packers lacked execution in the loss to the Chiefs.
However, did you see anything today that should cause major panic in Green Bay?
This Packers' team didn't execute, the secondary gave up some plays and there was no real rhythm to the Green Bay offense. And on top of that, we didn't see any impact plays on either side of the ball.
You do that in the NFL and it is extremely hard to get on the plane with another win. Doesn't matter if you are the Packers or the Colts (who finally won a ball game today).
There is no question this is magnified because of the push for 16-0. I get that. But if you are going to jump off the Packers' bandwagon because of a late season loss, you haven't watched enough NFL football this year.
And knowing how veteran teams operate, this game film will serve as a real learning tool tomorrow up at the facility and throughout the week of practice.
You move on after this loss. The Packers know that. Make the corrections, deal with the injuries and put together a better game plan next week.
Let's see how they respond on Christmas night vs. a Bears' team that has imploded since the injury to QB Jay Cutler. My money is on Aaron Rodgers. Woodson and the Packers to play a better brand of football.
Follow me on Twitter: @MattBowen41