August 05, 2012 -
Matt Bowen
Hall of Fame game: Five things to watch
With the first preseason matchup of 2012 tonight in Canton, here are some quick notes on what I will be looking for when the Saints and Cardinals play in the Hall of Fame game.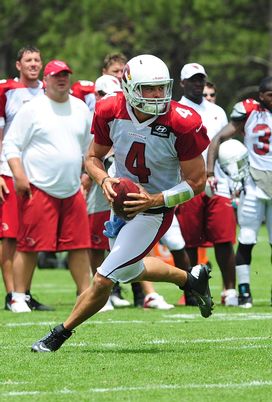 US PRESSWIREFor Kolb and Skelton, the QB competition continues tonight in the Hall of Fame game.
Kevin Kolb vs. John Skelton: No one is going to win the No.1 job tonight in Canton, but we have to remember that these reps will be graded and are a part of the overall evaluation process. Offensive coaches want to see quarterbacks protect the ball, sustain drives, make throws on third downs and produce points in the preseason. And everyday is an interview when you are competing for the starting QB job in August. This game counts for Kolb and Skelton.
Saints new defensive scheme: With Steve Spagnuolo taking over the defense in New Orleans from the departed Gregg Williams, I'm curious to see their base defensive package. Under Williams, the Saints used multiple fronts with zone and man pressure, combination coverages, etc. What will the defense show under Spagnuolo? Expect the game plan this early in August to revolve around core defensive schemes, but it should still give us a feel on how the Saints will line up this season.
Replacement refs: Our first look at the "backup" refs. Are they quick with the flag in the secondary or do they let the DBs play a little bit? What about on the interior of the offensive line or in the pocket when the QB takes a hit? And don't forget about their decision-making when it comes to throwing the flag on helmet-to-helmet contact in the passing game. There are multiple angles to look at here with these replacement refs and how they officiate a pro game.
Rookie Michael Floyd: I talked about rookie WRs and their transition to the NFL game on Saturday. A tough job for any first-year pro to adjust to veteran competition outside the numbers. With Floyd, I want to see him run routes, work a DB in off-man coverage and get down the field in the vertical game. A size/speed WR that should see plenty of reps throughout the night and use his body to create some leverage working back to the QB.
Special Teams: First opportunity for rookies and veteran bubble players to make an impact in the kicking game. As I have said before, special teams are the ticket for many of these roster hopefuls, so check out kickoff coverage, the gunners on punt, etc. Who can make an open field tackle, break down vs. a punt returner and play with a style that shows up in the film room? This is a reason to keep the game on late into the second half—because these guys covering kicks are looking to make an NFL club.
Follow me on Twitter: @MattBowen41