September 12, 2011 -
Matt Bowen
Handing out the Week 1 game balls
Every Monday here at the NFP, I will hand out some game balls to five players that produced on Sunday. Let's see who stepped up in the Week 1 NFL schedule…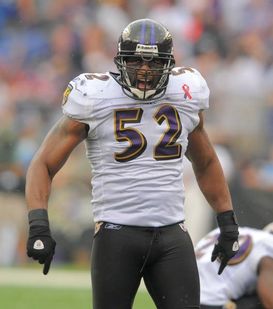 ICONI'm giving a game ball to Ray Lewis and the entire team in Baltimore.
The Ravens: I'm giving one out to the entire team after the 35-7 win over the Steelers. Forced seven turnovers, won in the passing game and ran the ball down the throats on the Pittsburgh defensive front. That's physical football from John Harbaugh's team.
Ryan Fitzpatrick, Bills: Four TD passes in the 41-7 win over the Chiefs. There should be some hype in Buffalo today after that type of production from the Bills' QB—and he did it on the road. I played down at Arrowhead multiple times during my career and it isn't an easy place to get a win. Buffalo blasted K.C. behind Fitzpatrick's numbers.
Cam Newton, Panthers: Sure, Newton and the Panthers got the loss vs. the Cardinals, but how can we not talk about a rookie (in his first NFL start) throwing for 422-yards? Looked legit. Next week: at home vs. the Champs.
Brian Urlacher, Bears: The Chicago MLB was part of a unit that shut down Matt Ryan and the Falcons. His final numbers: 10 tackles, an INT, a fumble recovery and a TD. But the biggest play came on the pick vs. the Falcons' boot action. That's a veteran move from Urlacher to read the route concept and come up with the football.
Ted Ginn, 49ers: The Seattle-San Fran game didn't get a ton of national hype, but we need to take a look at the Niners' return man. Took two kicks back to the house in the fourth quarter for a 49ers' win. And that cut he made on the kickoff return? I am still thinking about that today.
And a special Thursday night game ball…
Randall Cobb, Packers: Two TDs as a rookie on a national stage. Doesn't matter if he ran the wrong route vs. a Saints blitz or took the ball out of the back of the end zone in the kick return game, because this rook is something to watch when he gets vertical up the field.
Follow me on Twitter: MattBowen41