November 14, 2011 -
Matt Bowen
Handing out the Week 10 Sunday game balls
Let's go around the league and hand out some game balls from the Week 10 Sunday NFL schedule. Here are four players (plus one defense) that stood out from my perspective.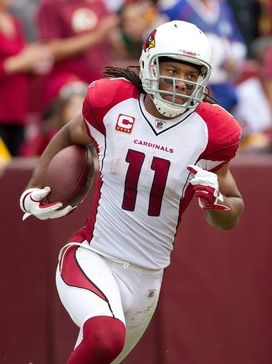 ICONFitzgerald produced 146 yards and 2 TDs vs. the Eagles' secondary on Sunday.
1. Larry Fitzgerald, WR, Cardinals: Fitzgerald lit up the over-hyped Eagles' secondary in the Cards 4th quarter comeback win in Philly. The WR caught seven passes for 146 yards and 2 TDs. And he did it working with his No.2 QB, John Skelton.
2. Tony Romo, QB, Cowboys: It will be interesting to see how defensive secondaries game plan this Dallas offense moving forward after the 44-7 win over the Bills, because Romo was on target working against man-coverage. Completes 23 of 26 passes for 270 yards and 3 TDs.
3. Tom Brady, QB, Patriots: Give some credit to the Patriots play calling (and the production of TE Rob Gronkowski), but the game ball goes to Brady. The New England QB throws for 329 yards and 3 TDs on the road vs. Rex Ryan's defense. Brady owned the second half, increased the tempo and used a variety of route schemes to move the ball in a game the Pats had to get.
4. Bears' defense/ special teams: This is the style of football Bears' fans are accustomed to with Lovie Smith as the head coach in Chicago. Score in the kicking game with Devin Hester, plus produce takeaways (and points) on defense. The Bears created six turnovers and scored 21 points with their defense and return game in the 37-13 win over Stafford and the Lions.
5. Chris Johnson, RB, Titans: It has taken 10 weeks of the NFL season to get the Titans' RB on my list, but when you produce 174 yards of offense (130 rushing, 44 receiving) in a 30-3 win, you are playing good football.
Follow me on Twitter: @MattBowen41