November 21, 2011 -
Matt Bowen
Handing out the Week 11 Sunday game balls
Let's take a look back at the Sunday NFL schedule and hand out some game balls. Here are five players that stood out from my perspective.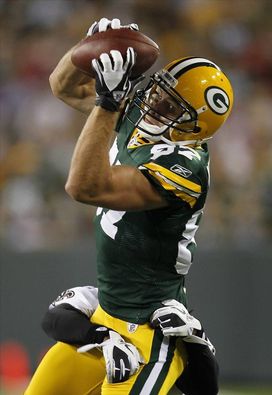 ICONNelson light up the Bucs' secondary in the Packers' 35-26 win at Lambeau.
Jordy Nelson, Packers: The Green Bay WR caught two TD passes from Aaron Rodgers in the Packers' 35-26 win over the Bucs to move to 10-0 on the season. Nelson beat press-coverage to close out the game on a 40-yard score and finished with 123-yards receiving on six receptions. Just another weapon for the top offense in the NFL.
Ray Rice/ Torrey Smith, Ravens: I'm handing out two game balls here, because the Ravens got back to a balanced game plan in the win over the Bengals. Rice carried the ball 20 times for 104 yards and two TDs (along with 43 yards receiving). And when you give the ball to Rice that opens up some options outside of the numbers for Smith. The rookie continues to develop into a legit deep threat and posted 165-yards receiving and TD on six receptions. Good for a 27.5 yard average per catch. Not bad for a rook.
Matt Moore, Dolphins: The Dolphins have won three straight and will come to play on Thanksgiving down in Dallas. The reason for that is the QB position in Miami. Moore completed 16 of 20 passes and was once again efficient in the red zone tossing three TDs future as the Dolphins beat up on the Bills 35-8. Another solid day of production for a QB that is trying to win a starting job for the future.
Kevin Smith, Lions: Detroit found a running game on Sunday in the comeback win over the Panthers. And while we need to hype up the play of QB Matthew Stafford (5 TD passes), I'm going with Smith. The Lions' RB rushes for 140-yards and 2 TDs for an offense that needed to see some real production out of the backfield. A much tougher club to prep for when they can run the ball.
Vincent Jackson, Chargers: There are plenty of issues with Norv Turner's club, but we can't question the ball game Jackson had on Sunday vs. the Bears. The Chargers' WR went to work on Chicago's Charles Tillman, displayed his route running ability and once again reminded us that he is one of the top deep ball threats in the game. Jackson finishes the day with 165-yards receiving and a TD.
Follow me on Twitter: @MattBowen41