November 28, 2011 -
Matt Bowen
Handing out the Week 12 NFL game balls
Let's take a look back at the Sunday NFL schedule (plus Thanksgiving Day) and hand out some game balls. Here are the players that stood out in Week 12 from my perspective.
Mark Sanchez, Jets: Still some signs of inconsistent play from the Jets' QB, but when the ball is inside of the 20-yard line Sanchez can make the throws. Four TD passes in the 28-24 win over the Bills (including the game winner to Santonio Holmes). Big production on a day when Rex Ryan's defense gave up some plays.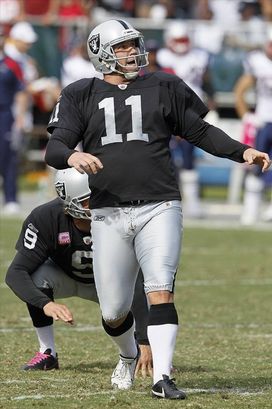 ICONJanikowski kicked six field goals in the Raiders' 25-20 win over the Bears.
Sebastian Janikowski, Raiders: Easy to hand out a game ball to a kicker when they go 6 for 6 on field goals. The Raiders offense struggle to convert when they had the ball in plus territory vs. the Bears, but Janikowski was automatic when he was asked to put points on the board in the 25-20 win over Caleb Hanie and Chicago.
Beanie Wells, Cardinals: The Rams have holes on defense, but don't let that discount the 228-yards (plus a TD) that Wells posted in the 23-20 win in St. Louis. He ran hard, hit the hole and showed some speed in the open field.
Tom Brady, Patriots: Maybe we take Brady for granted at times, and although the focus from Sunday was on the under achieving Eagles, the Patriots' QB lit up the Philly secondary. Brady throws for 361-yards and 3 TDs as New England rolls over Philadelphia.
Chris Johnson, Titans: Big numbers from the Titans' RB in the win over the Bucs. Johnson finishes the afternoon with 190-yards and looked like the a Pro Bowl player. Give some credit to the Tennessee O-Line that has taken some heat this season.
Thanksgiving game balls…
James Jones, Packers: Another week and another Packers' WR shows up in the box score. Jones catches three passes for 94 yards with his TD reception coming on the deep post vs. the Lions' Cover 4. A big play i the win over Detroit as Green Bay moves to 11-0 on the season.
Ravens' front seven: Give a game ball to the entire defensive front in Baltimore after that win over the 49ers on Thanksgiving night. Because when a defense racks up nine sacks vs. a physical O-Line, they are playing some good football.
Check back to the NFP this afternoon for my Giants-Saints Monday night preview…
Follow me on Twitter: @MattBowen41